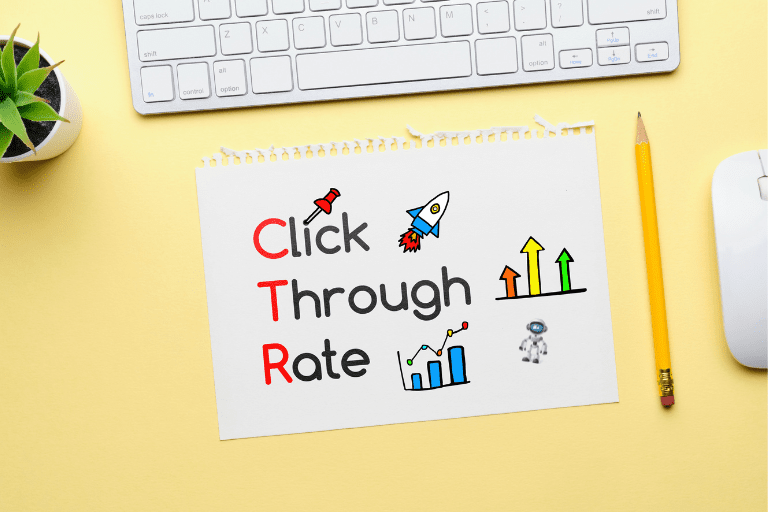 As an email marketer or business owner, you're likely always searching for ways to improve your email marketing campaigns. Chances are, if you're reading this article, you are curious to know what is a good click through rate.
The quick answer is this: a good click through rate for email is anything over 2.5%, with the best email marketers consistently achieving over 6%.
But as with many things in life, the devil is in the detail. That's because CTR depends on several factors, including your industry, audience, campaign goals, and more.
So in this article, we'll unpack these headline figures and explore the email marketing industry benchmarks for click-through rates in more detail.
We'll also provide some tips on how to improve your click-through rates by optimizing various aspects of your email marketing campaign.
Let's get started!
What is a click through rate
Click-through rate refers to the percentage of people who clicked on a link within your email campaign. CTR is an important metric because it measures how many subscribers are actively engaging and taking action on your content.
It provides you with an overview of how well your email campaigns are performing and can help you decide on your content strategy, timing, and call-to-action (CTA).
How to calculate email click through rate
To calculate your email CTR, you need to divide the number of clicks your email receives by the total number of emails delivered and multiply by 100 for you to get a percentage.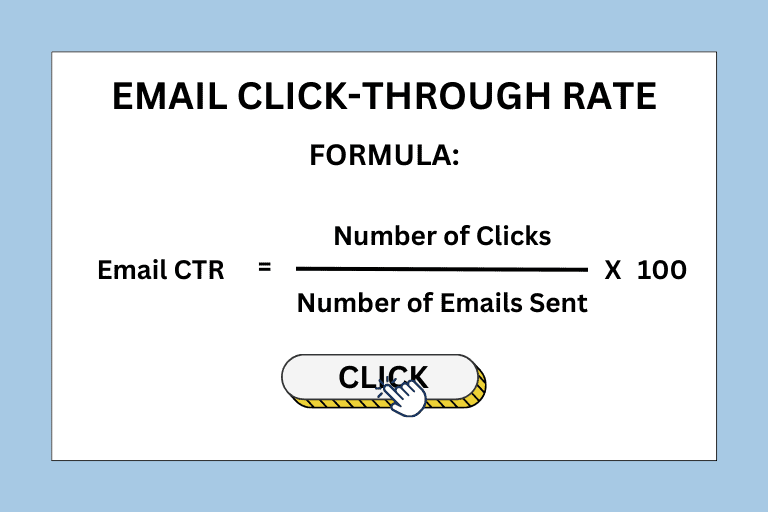 Let's say you sent out 1,000 emails, and 50 people clicked on the links in your email, your CTR would be 5%. (50/1,000) x 100 = 5%. It's crucial to note that you should exclude any bounced emails, i.e., those that were not delivered, from your calculation.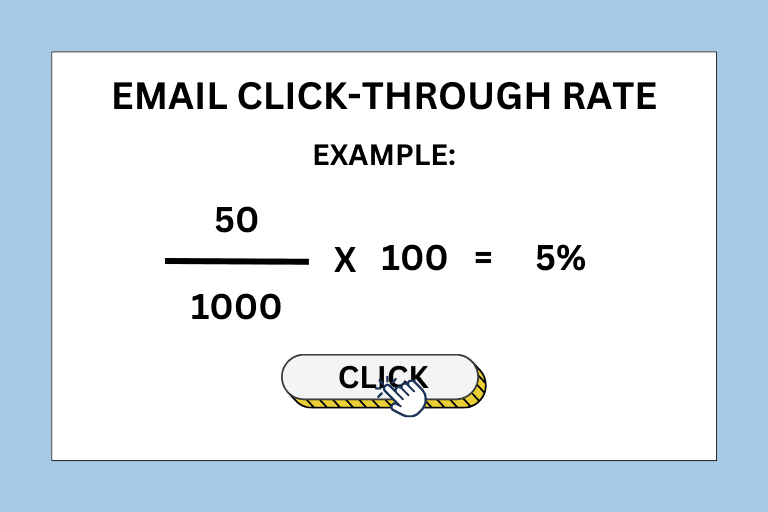 It's also essential to track your CTR over time to evaluate the effectiveness of your email campaigns. You can track your CTR and other important email marketing metrics using an email marketing software like AWeber.
What is a good click through rate for email?
Click-through rate (CTR) is an important metric to measure the success of their campaigns.
On average, a CTR of over 2.5% is considered good for an email marketing campaign, with the best achieving a CTR of over 10%.[1]
However, it's important to take note that a good CTR varies depending on various factors such as industry, audience, type of email, and more.
For instance, if you're in the e-commerce industry, you might aim for a higher CTR as your email campaigns may be promoting specific products or services. On the other hand, if you're a non-profit organization, your primary goal might be to generate awareness or donations, which may result in a lower CTR.
To determine a good CTR for your email campaign, it's important to set realistic goals and benchmark your results against similar businesses in your industry. It's also essential to track your data over time to evaluate the effectiveness of your email campaigns accurately.
What is the average click through rate?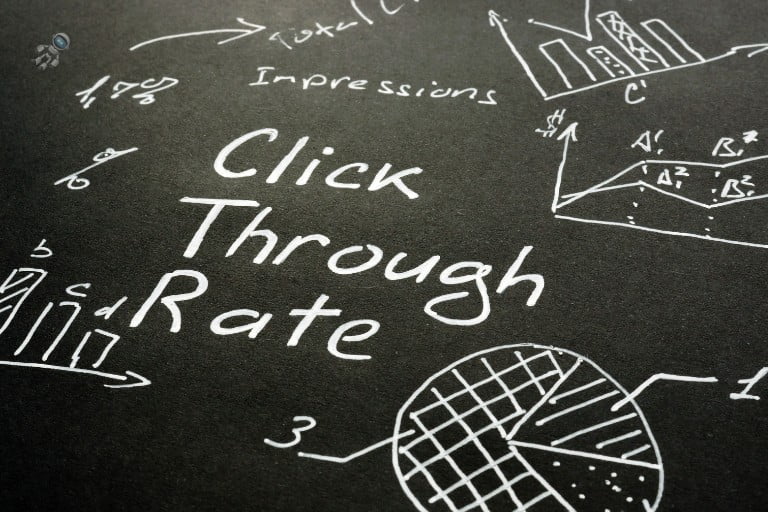 According to February 2023 data, the average click through rate is 1.42%.[2]
Note, however, that this varies depending on the type of business, industry, and type of email. Some industries struggled to achieve 1% while others enjoyed over 2.5%.
Email marketing benchmarks vary between providers too, so it's usually best to compare your own data with the industry average for your provider to find out how you're doing.
For example, AWeber benchmarks on click-through rate indicates that 77% of small businesses have an average email click-through rate between 0% and 10%.
And for 61% of small businesses with effective or very effective email copy have click-through rates of 6% or higher.[3]
In a MailChimp benchmark, click-through rates were found to range from 5.01% in the hobbies sector to media and publishing emails at 4.62%.[4]
You see, there are different factors affecting the average click through rate and it's important to consider looking at it by measuring and comparing your data.
By monitoring your email campaigns' CTR, you can better understand the effectiveness of your messages and optimize them to maximize your results. Understanding the average click through rates of successful campaigns can also help you set realistic goals for your email marketing efforts.
Click through rate vs open rate
As you continue to develop your email marketing strategy, it's important to understand the difference between open rate and click-through rate (CTR) as metrics for measuring the success of your campaign.
Open rate refers to the percentage of recipients who opened your email. However, this metric can be flawed because not all email clients will register the open due to privacy settings or other technical reasons.
This means that your email open rates may not accurately reflect the actual number of people who have opened and viewed your email.
On the other hand, click-through rate (CTR) refers to the percentage of recipients who clicked on a link or CTA within your email. CTR is a more accurate metric to measure the success of your email campaign because it shows that the recipient not only opened the email, but also engaged with it by taking action.
CTR can also help you understand which elements of your email campaign are most effective, such as the placement and design of your CTA, the copywriting of your email, and the relevance of your content to your audience.
While CTR is a more accurate metric, it's important to note that it should not be the only metric you use to measure the success of your email campaign. Other metrics to consider include conversion rate, unsubscribe rate, and overall engagement rate.
Factors that affect click through rates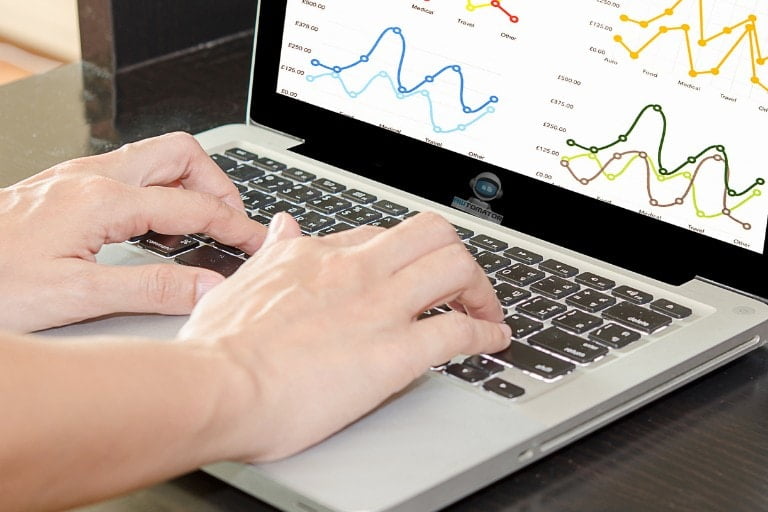 When measuring your email CTR and comparing your data with different benchmarks, it's important to take a look at the following factors:
Industry
Since different businesses have distinct benchmarks, the average click-through rate can vary widely across industries.
For instance, the average CTR for e-commerce emails may be higher than the average CTR for nonprofit emails. It's important to do research and compare industry benchmarks to set realistic goals for your email campaigns.
Target audience
The click-through rate of your email campaigns may also be impacted by your target audience. The types of emails that resonate with your audience and the likelihood of them clicking on your links can be influenced by factors such as age, gender, interests, and location.
Type of email
The type of email you send can also impact the click-through rate. For example, a promotional email may have a higher click-through rate than a newsletter or a confirmation email. It's important to consider the purpose of your email and tailor your content and call-to-action accordingly.
Email frequency
The frequency of your email campaigns can affect your click-through rate. Sending too many emails can result in email fatigue and decreased engagement, which leads to a lower click-through rate. It's critical to find the right balance and avoid flooding your subscribers' inboxes.
Quality of email content
The click-through rate can also be affected by the quality of your email content. If the content of your email is engaging, personalized, and valuable to the person who receives it, they are more likely to click on the links and take action.
Remember: No matter what factors affect your email marketing performance, it's important to understand what they are so that you can make adjustments in the future to improve your email click.
How to increase click rate in email marketing campaigns
If your email CTR is good, it means you're doing something right in your email campaigns (kudos to you!). If not, then it's time to up your game.
Improve your email click by applying these strategies:
Write compelling email subject lines
The first thing that subscribers see when they open your email is the subject line.
It's crucial to create subject lines for your emails that grab your subscriber's attention and encourage them to open your email.
Using curiosity in your headlines can work really well, but avoid overly spammy or click-bait terms that can turn people off and instead use language that is urgent and engaging.
Segment your email list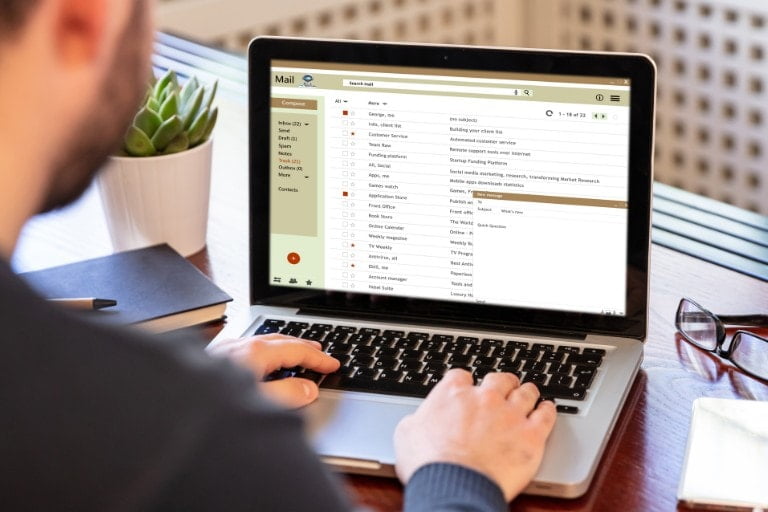 One of the most effective ways to increase CTR is to segment your email list. This allows you to target specific groups of people and send emails with personalized messages that are more likely to resonate with them.
For example, you can segment your list based on factors such as demographics, engagement levels, or previous purchases.
Make sure your links are effective
Avoid using generic phrases like "click here," which can be unclear and unappealing.
Instead, use text that accurately describes the content the link points to, and why it's relevant to the reader (for example: "Get your free trial of AWeber here.")
Embed more links in your email
Adding multiple links to the same destination content can be helpful for prompting action, especially in longer emails. This is especially so when combined with the previous point, because you can link different phrases to highlight different benefits.
For example, if you're sending an email to promote an event or webinar and want people to register, you might link to the registration page every few paragraphs, each link highlighting a different benefit of registering.
By having multiple links to the registration page in your email, you can increase the chances of more people signing up and attending the event.
Send personalized and relevant content
CTR can also be increased by using the recipient's name and other personal information to make the email feel more personalized and relevant. Personalization can help build a connection with the recipient and make them more likely to engage with your email.
Use Social Proof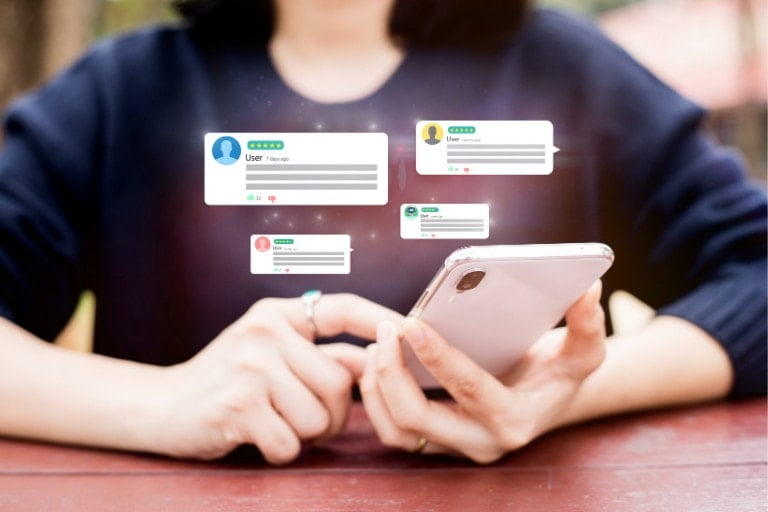 When people see others using your product and enjoying it, they're more likely to be convinced that it's worth a purchase. Social proof is a powerful persuasion tactic, because if others believe something works well, then it must really work well.
In fact, 77% of people trust online reviews as much as recommendations and reviews from friends and family, social media personalities, or topic experts.
You can use social proof in your email content by showcasing your customers' success stories and their experiences with your product or service.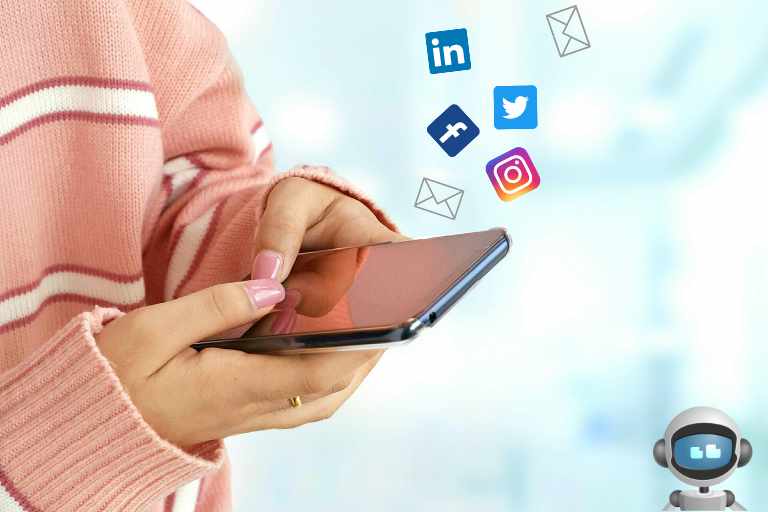 A social sharing button allows your email to reach a large audience by allowing it to be shared with friends and colleagues.
Emails with a social sharing button tend to receive a higher click-through rate. One study found the average CTR of emails with a social sharing button is 6.2% while those without is 2.4%.[5]
Now, that's a whopping 158% increase in email click-through rates!
Create a sense of urgency
By creating a sense of urgency in your emails, you can tap into your subscribers' fear of missing out on a great opportunity and encourage them to take action right away.
In a nutshell, FOMO is the feeling of wanting to join in on the fun when everyone else is doing something great. It's a powerful emotion that can motivate people to take action despite not initially being interested.
To create a sense of FOMO in your emails, you can use a variety of tactics. For example, you can highlight limited-time offers, exclusive deals, or the fact that there are only a few spots left for a webinar or event.
You can also use urgency-inducing words like "limited time offer," "act now," or "don't miss out," to encourage subscribers to take immediate action. This can lead to an increase in CTR.
Use a clear call-to-action (CTA)
To increase or get more clicks on your email marketing, a clear CTA is essential. Ensure that your CTA is clearly visible and uses language that is direct and action-oriented.
Also, to give your audience several chances to click, consider using various CTAs throughout your email.
Create optimized emails for mobile devices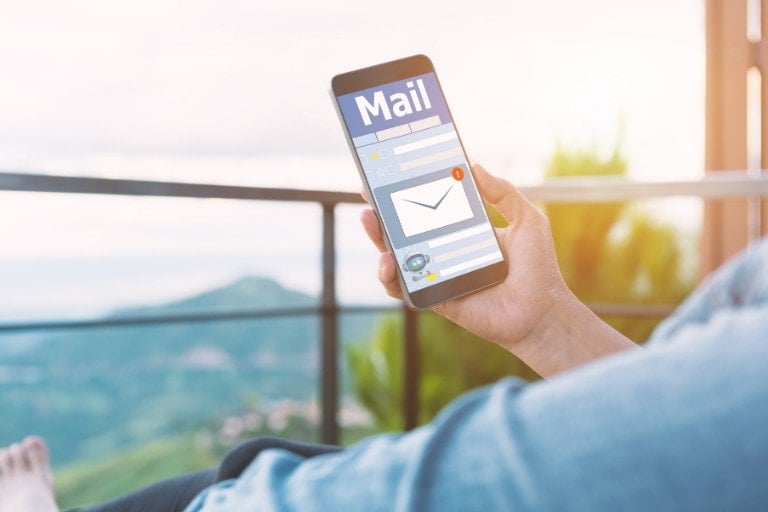 Did you know that 85% of users use their smartphone to access email?[6]
That's why it's important to consider that your email subscribers can view them from any device.
If your emails are designed to be mobile responsive (where the layout changes based on the screen size), mobile readers will get a much better experience than if they were just mobile friendly emails (which allows you to use fewer images and more text).
So, see to it that content is mobile responsive with templates made for any device.
Not sure how to make an email responsive? Don't worry!
There's a lot of email service providers like AWeber, that offer mobile-responsive email templates for their users to use.
Optimize your email design
The design of your email can also impact your CTR. Use a clean, simple layout that is easy to read and navigate. As many people now check their email on their phones, make sure your email is also optimized for small screens.
Test and optimize
Finally, it's essential to test and optimize your email campaigns regularly. To determine which subject lines, CTAs, and email styles are most effective for your audience, use A/B testing. Analyze your CTR data to identify trends, and adjust your strategy accordingly.
Do images help (or hurt) click through rates?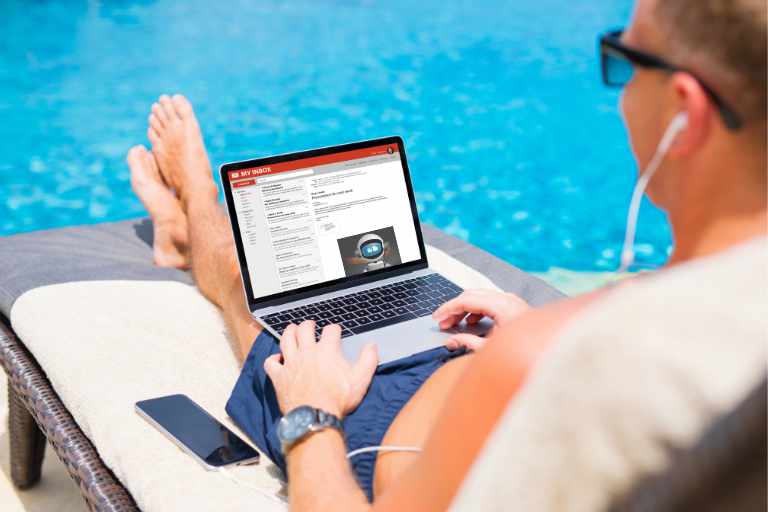 Images can help increase click-through rates (CTRs) if they are used in the right way. One way is to use images that are clickable to encourage people to take action.
You can, for example, use an image that resembles a video thumbnail to indicate that clicking on it will take them to watch a video. You can also include an image button that takes you to a landing page or product page. These images are more likely to persuade the email recipients to click, resulting in higher CTRs.
Another thing to keep in mind when using images in emails is that they look natural and visually appealing. One method is to use a hybrid email format, which combines plain text and image-based content.
Hybrid emails have a natural flow that engages and encourages people to interact with the content. With a hybrid email, you can use images to enhance the text and provide visual cues that guide the reader's attention to specific points in the email.
How many CTA's should I include in my email?
The general rule for calls to action (CTAs) in your email is to have one main objective.
This is because the primary goal of an email is to get the reader to take a specific action, such as clicking through your landing pages or making a purchase.
You can, however, insert your primary CTA multiple times throughout the email, linked from relevant phrases that invite curiosity or action.
For example, instead of using generic phrases like "click here," try using more specific and actionable phrases such as "download your free e-book" or "reserve your spot now."
It's also important to take note of CTA placement so make sure that your CTAs are easy to see and stand out from the rest of the content.
Consider using contrasting colors and bold fonts to draw attention to your CTA and make it clear what action you want your readers to take.
But keep in mind that too many CTAs can be overwhelming for the reader and can make your email look spammy.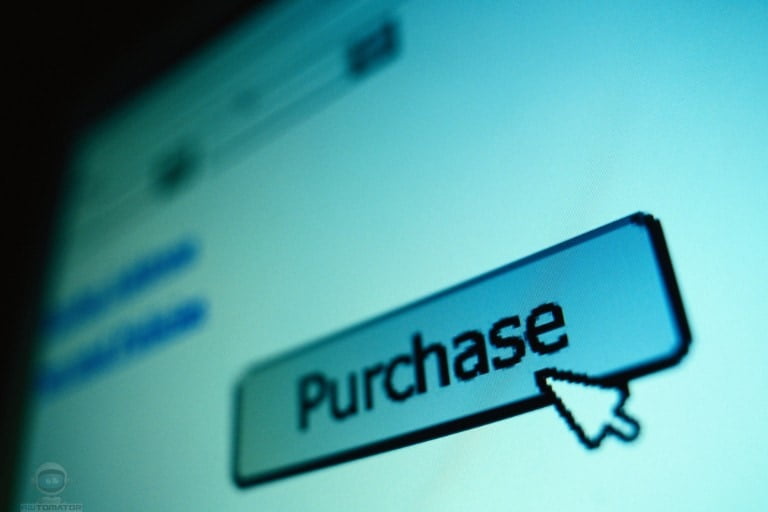 When it comes to choosing between text links and buttons for your call to action (CTA), both can be effective depending on the context and design of your email campaign.
Buttons tend to stand out more visually and can be a great option to draw attention to your call to action (CTA). They show the reader clearly what to do, and they are often easier to tap on mobile devices. But you should make sure that your buttons are designed well and stand out from the rest of the content.
Text links, on the other hand, can look more natural and fit in better with the rest of your content. They are also used more often in email marketing and can be a good choice if you want your email to sound more personal or have a conversational tone.
In the end, the choice between text links and buttons depends on how your email campaign is designed and what it is about. If you decide to use buttons, make sure they are visually appealing and stand out from the rest of the content. If you choose text links, make sure they are placed in a way that makes them stand out from the rest of the text.
One option to consider is using a hybrid email format that combines both text and image-based content. This can help your email look more natural and engaging while still including prominent CTAs. For example, you can use text links within your email's body while using a button for your primary CTA at the bottom of the email.