AWtomator Gives You Everything You Need
To Increase Sales and Conversions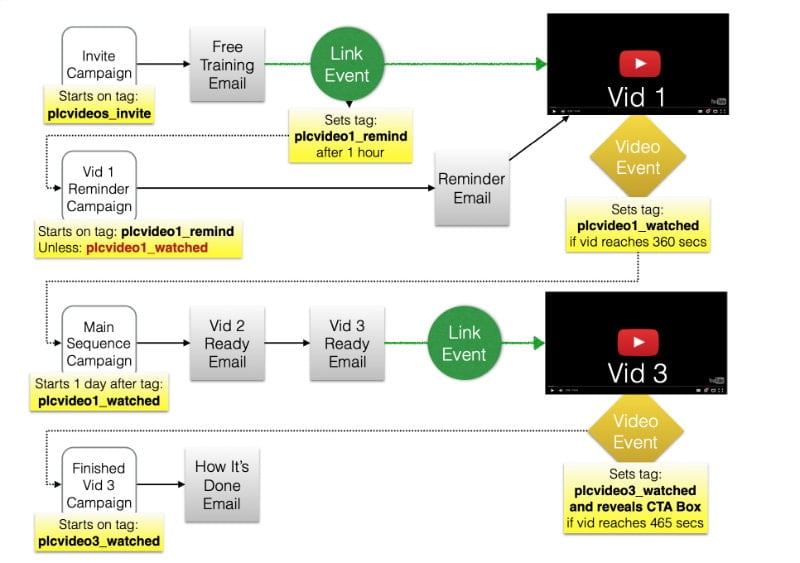 AWtomator's flexible events let you create the same kinds of automated behavioral dynamic campaigns that people pay big money for in premium systems like Infusionsoft and Ontraport.
Except that with AWtomator, you'll be paying less per year than they pay per month…
Create expiring offers, segment your lists and trigger automation based on pages visited, videos watched and more.
AWtomator Lets You…
Move / Copy a subscriber to another list without using an opt-in form and without requiring email confirmation
Change the legacy message the subscriber is on
Start AWeber Campaigns followup sequences
Segment your subscribers using AWeber Campaigns tags
Unsubscribe subscribers
Distribute unique coupon codes to subscribers
Add subscribers to a Facebook Custom Audience
When Your Subscribers…
Stop engaging with your web pages, videos, and emails (ReEngage Event)
Click a link in your email (Link Event)
Visit a page on your website (Page Event)
Watch a certain amount of a video (Video Event)
Purchase a product or register for a webinar (IPN Event)
Are tagged with an AWeber Campaigns Tag (Tag Event)
PLUS, you can automatically add new subscribers with our IPN events and keep your AWeber costs down by automatically deleting unsubscribes with our Purge Event
"Behavioral Dynamic Response is truly the holy grail of Internet Marketing"
~ Frank Kern
AWtomator Saves You Money
AWtomator is part of a select group of third-party service providers who have passed Facebook's rigorous standards and security requirements and been approved for Leads Ads integration.
This feature can cost you around 5% of your advertising spend or $300/month with other providers…
But even though this feature is worth 10X the cost of AWtomator alone, you get it bundled into AWtomator for free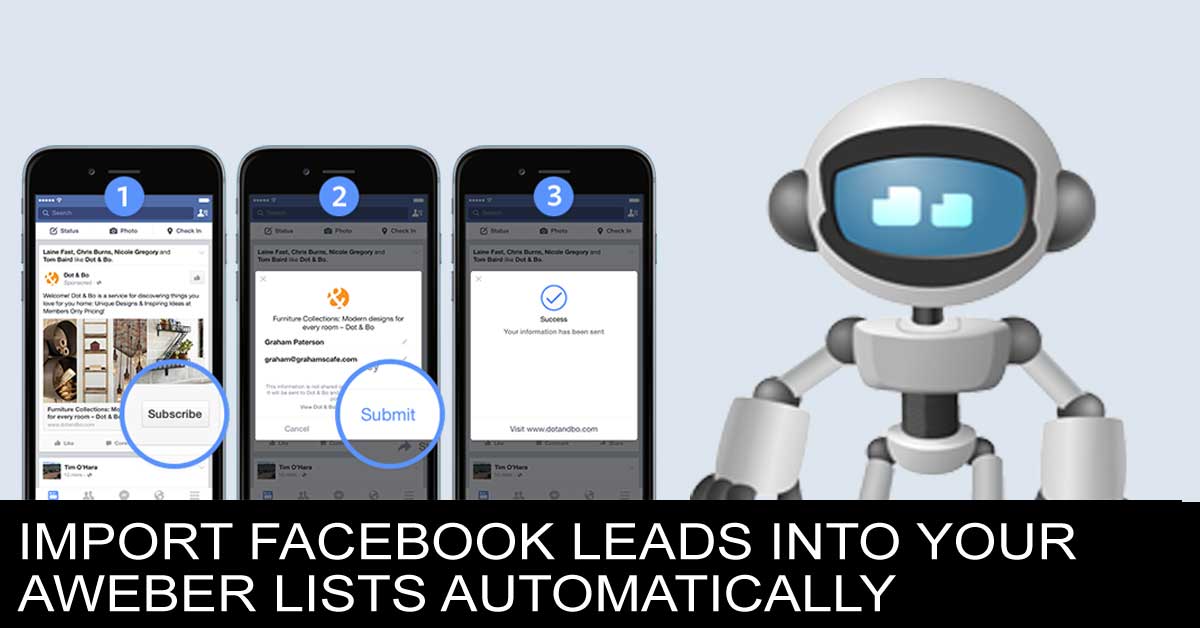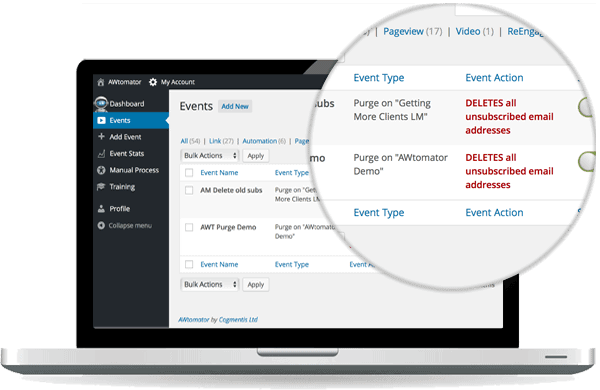 AWtomator's Purge Events can automatically delete all the unsubscribed people on your lists.
This alone can make AWtomator more than pay for itself by keeping you from moving up the AWeber pricing tiers.
You can also export all deleted subscribers into a CSV file, which makes them really easy to use in a Facebook custom audience etc.
Other services make you pay more for plans with the features you really need.
But we don't. All our plans are fully featured, so that you get access to everything from day one.
You also get unlimited subscriber processing, which means that you can get as fancy as you like with your events and process your subscribers without fear of hitting any limits.
Instead, our plan thresholds are fairly based on the total number of subscribers you have… just like AWeber.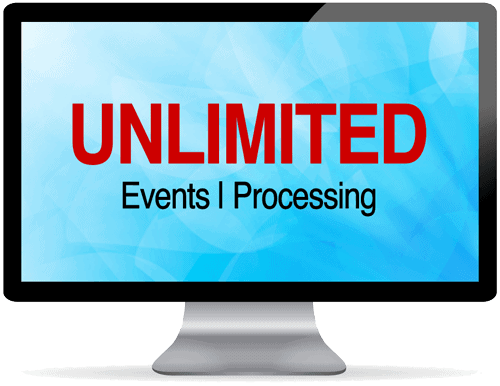 AWtomator Saves You Time
AWtomator events can also be manually triggered, so you can use them to re-organise your lists at will.
Want to copy subscribers to a new followup sequence? Simple.
Want to tag the subscribers who attended your event? Easy.
Want to consolidate some old lists into a new one? Done.
Simply select the event you want to activate and then copy/paste or upload a list of subscriber emails and its done.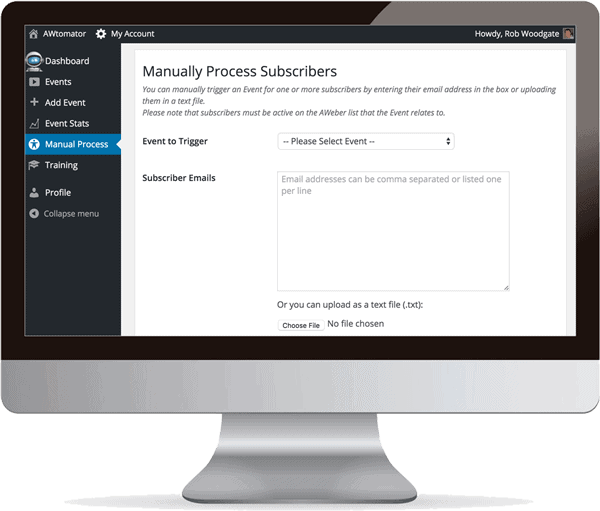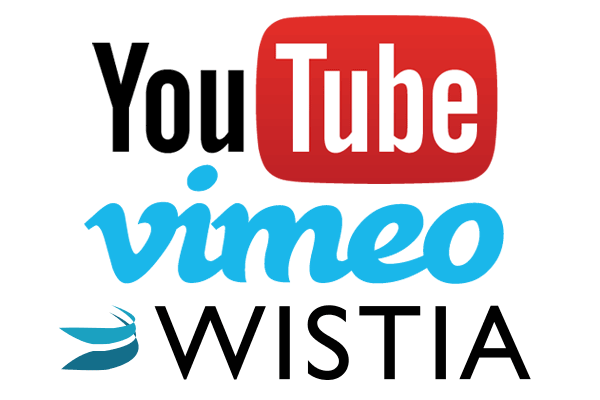 AWtomator Video Events let you trigger an action when a video reaches a certain timestamp, making it simple to segment your list and send conditional followups to the subscribers who are the most engaged with your content. Plus, you can also make a website element, such as a buy now button appear right on cue
Setup is as simple as dropping a line of code into your web page, which means you can easily add them to your existing video pages.
Plus, you can add multiple video events to the same page, which means you can take different actions depending on how much of the video they watch.
Link Events can be set to expire at a fixed time, or relative to the date the email is sent.
This means as well as one-off offers, you can also create evergreen time limited launches and offers that have genuine scarcity, without having to swap out links or pages once they've expired.
When the link expires, you can redirect them to another URL – perhaps a "sorry you missed out" page, or another offer.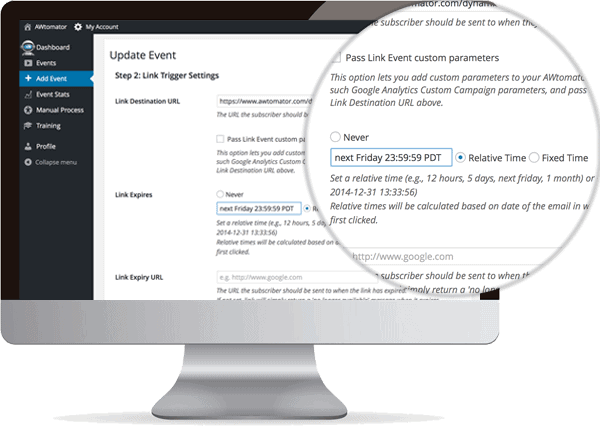 AWtomator Saves You Hassle
AWtomator's flexible Integration system makes it simple to set up IPN listeners for Zapier, Facebook, Clickfunnels, ClickBank, JVZoo, PayPal, Stripe and WooCommerce, as well as easily "roll your own" integration with other 3rd party systems too.
This makes it simple to separate your prospects and buyers into separate lists, or tag people who register for a webinar.
You can also use IPN events to add new subscribers automatically, without email confirmation, which is perfect for cold traffic sales, Facebook Lead Advertising and JVZoo affiliates.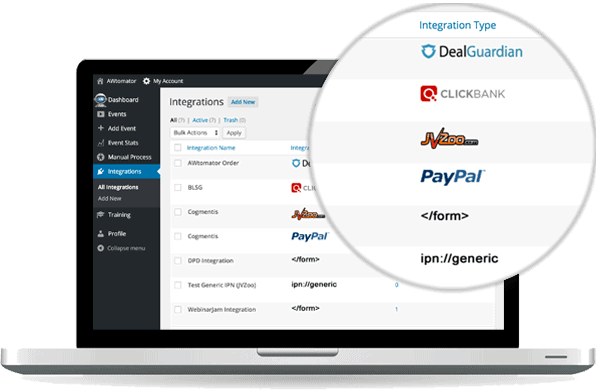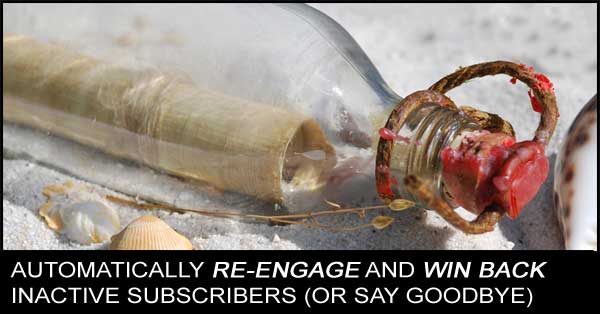 Email providers like Google and Yahoo monitor subscriber engagement to determine whether your emails reach the inbox or junk folder, so when subscribers stop opening and engaging with your emails, you need to get them re-engaged or off your list fast!
AWtomator's ReEngage events let you automatically monitor engagement so you can move inactive subscribers to a win back campaign or even unsubscribe them if it's time to say goodbye.
Your list is the most important part of your business… Maybe even your ENTIRE business. But it's such a hassle to remember to login and manually backup your lists regularly, isn't it?
That's why AWtomator does an automatic backup of your subscribers every day. So you can rest easy knowing that your skin (and business) is safe if something bad happens.
Your data is stored on our private cloud based server, hosted by a Tier 1 provider, to ensure maximum privacy and service availability, and we use state of the art SSL security to give you the highest levels of security the industry has to offer.
Our 2048-bit SSL encryption means that your data is secure, no matter what device or web browser you use.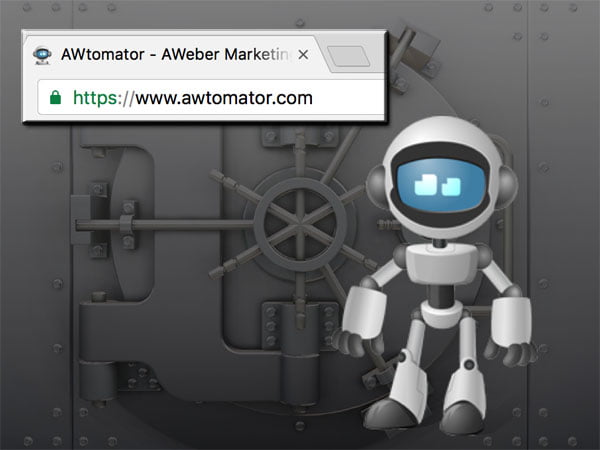 Love Stats? You're In Good Company!
Event stats puts the metrics that matter right at your fingertips
See exactly how your AWtomator events are performing, and quickly identify trends and any problems. Instantly download a CSV file of all subscribers processed by an event, and then use these emails to build custom remarketing lists in Facebook.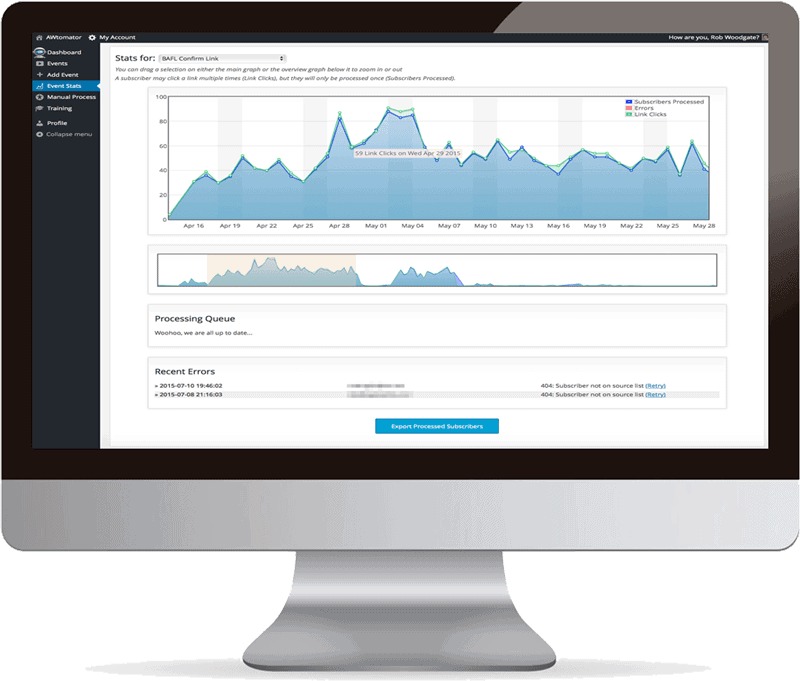 Key Feature Summary
IPN Integrations
Trigger segmentation, list moves and AWeber Campaigns when you get instant notifications from Zapier, WooCommerce, Stripe, JVZoo, ClickBank, PayPal etc
Re-Engage Events
Trigger segmentation, list moves and AWeber Campaigns when a subscriber stops engaging with your emails, videos or web pages
Tag Events
Trigger segmentation, list moves and AWeber Campaigns when a subscriber gets tagged with an AWeber Campaigns Tag
List Cleanups
Reduce your AWeber bill by deleting unsubscribes automatically
Link Events
Trigger segmentation, list moves and AWeber Campaigns when a subscriber clicks an email link
Page Events
Trigger segmentation, list moves and AWeber Campaigns when a subscriber visits a web page
Video Events
Trigger segmentation, list moves and AWeber Campaigns when a subscriber watches past a certain timestamp
Auto Unsubscribe
Automatically chop out the 'dead wood' that's killing your deliverability
Build Your Lists
Automatically add subscribers from 3rd party IPN Events without opt-in – even as a JVZoo affiliate!
Lead Ads Integration
Real time import of Facebook Leads without opt-in lets you respond before they go cold
Custom Audiences
Automatically update Facebook Custom Audiences as subscribers trigger events
Re-organise Lists
Trigger events manually by copy/paste or uploading a list of subscriber emails
Expiring Links
Create one-off offers or evergreen campaigns with relative expiry dates
Export Segments
Save a CSV file of processed subscribers for Facebook Custom audiences etc
Delay Events
Wait a pre-defined period after event fires before processing subscriber
Advanced Logic
Skip move/copy if subscriber exists, override earlier video triggers and much more
Daily List Backups
Automatic daily list backups mean your business is safe if the worst happens
Timed Buy Button
Video Events can make a box or button appear right on cue (no programming needed)
Compare Lists
See if subscribers in one AWeber list are also in another, de-duplicate lists and more
Distribute Coupons
Upload a list of unique discount coupons and distribute them to your subscribers
Google Analytics
Link Events can pass custom parameters, such as Google Analytics utm_source etc
Segment Subscribers
Get the right message to the right person at the right time with smart segmentation
And with automatic updates, you get new features the moment they are released…
Any Device, Any Time, Anywhere
AWtomator works with any device, operating system or internet browser you care to name.
Mac or PC… desktop, notebook, iPad, iPhone or Android… Safari, Chrome, Firefox or Internet Explorer… it doesn't matter, AWtomator works with them all.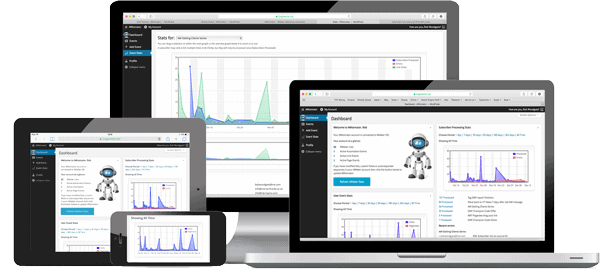 100% AWeber Compliant
AWtomator only uses the official AWeber APIs, so all operations are 100% AWeber compliant. You just connect AWtomator to your AWeber account and away you go!
Ready To Get Started?
Unleash the power of event driven automation with 30 days free