Facebook Lead Ads have been getting a lot of internet marketers really excited, and for good reason… because they make capturing leads really quick and simple.
Lead Ads remove the friction that regular signup forms have.
As Facebook says:
You know what no one's ever said? "I love filling out forms."
Which is a shame, because forms are pretty useful things. That's why we're testing lead ads, a new, simpler way for people to fill out forms on their mobile devices.
Lead ads make the mobile signup process easier by automatically populating contact information that people have given Facebook, like email addresses.
All Facebook users have to do is tap twice to submit their name and email address – it's as simple as that!
No more trying to type an email address on a small keyboard – a task that can put off of even the most determined of users.
And because they are doing it inside Facebook itself, it feels more natural and safer than filling in a scary form on a strange website.
So, the conversion rate from Lead Ads can be huge…
But…
There is a Downside to Facebook Lead Ads
The biggest drawback to Facebook Lead Ads is that the leads get stored in Facebook, so you have to remember to go login and download them as a text file, then process them manually.
And unless you are willing to compulsively check for downloads every few hours, then the leads you spent good money to capture will already be going cold.
In fact, … studies … have … shown … that responding to leads with 30 minutes or less can increase conversion rates by 60X or more!
How to grow your AWeber List using Facebook
We're really thrilled to announce that AWtomator integrates with Facebook Lead Ads so that leads are automagically added to your AWeber list within minutes of completing the Lead Ad form.

What's more, because the leads are coming from a bona fide source, you can do this without double opt-in email confirmation if you so wish.
This integration puts AWtomator in a select group of third-party service providers who have passed Facebook's rigorous standards and security requirements and been approved for Leads Ads integration.
In fact, because there are only a handful of providers who can process Lead Ads at present, this kind of functionality can cost you 5% of your advertising spend or minimum $300/month with other providers.
But we're bundling it into our main service free… which means this one feature alone is worth 10X the cost of AWtomator!
Setup is really simple.
Step 1: Create a Facebook Integration
We need to get your Facebook Page and AWtomator talking to each other, so the first thing we need to do is to create an Integration Event in AWtomator, choosing Facebook as the Integration Type.
Next, login to Facebook and select your Page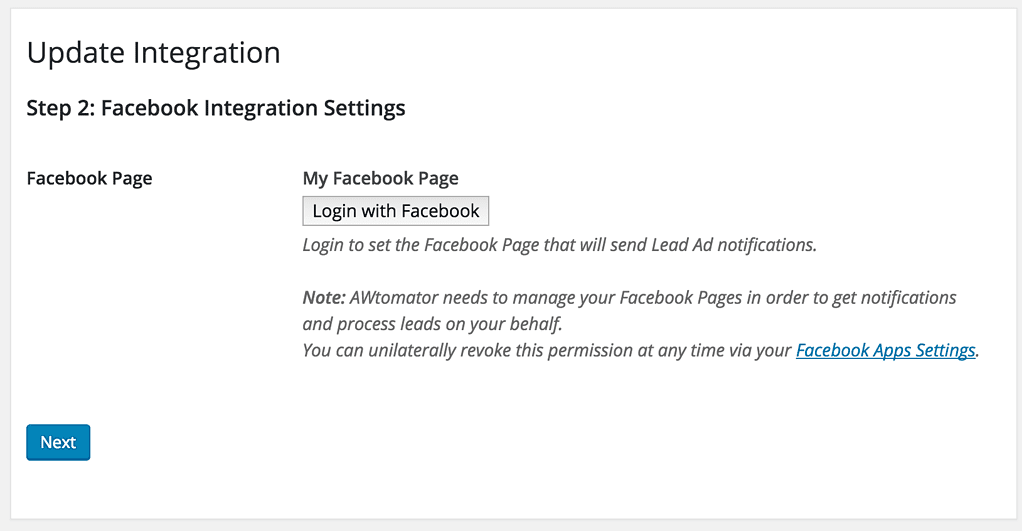 Click Next, and you're done!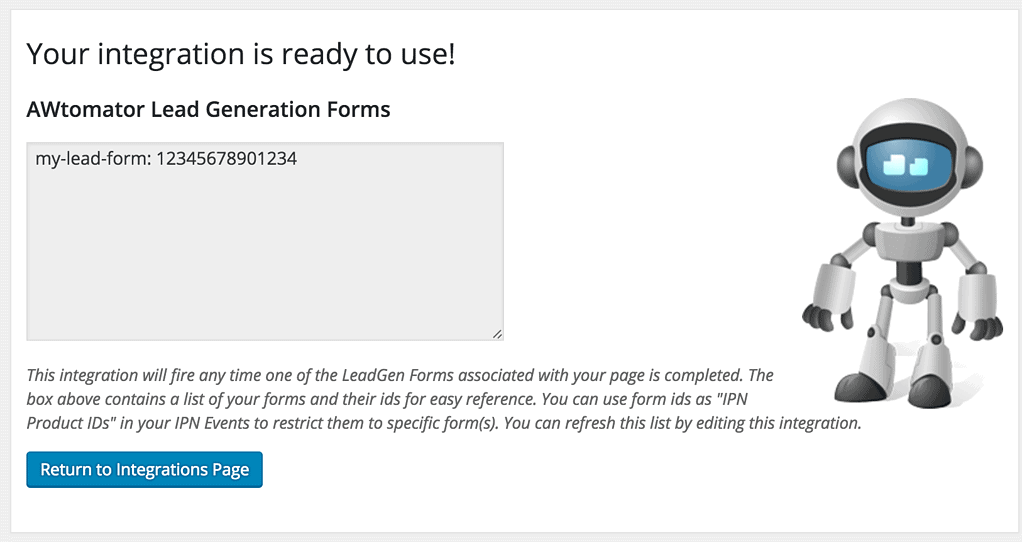 The final screen will show you a list of the lead forms that you currently have configured for your Facebook Page. You can use these in the next step to optionally restrict IPN Events to specific lead forms.
Step 2: Setup an IPN Event
AWtomator will now get notified any time someone completes one of the lead forms on your Facebook Page. So we need to tell AWtomator what to do with them!
To do this, we set up an IPN Event, by clicking the "Add Event" option in the menu, and selecting IPN Event as the Event Type.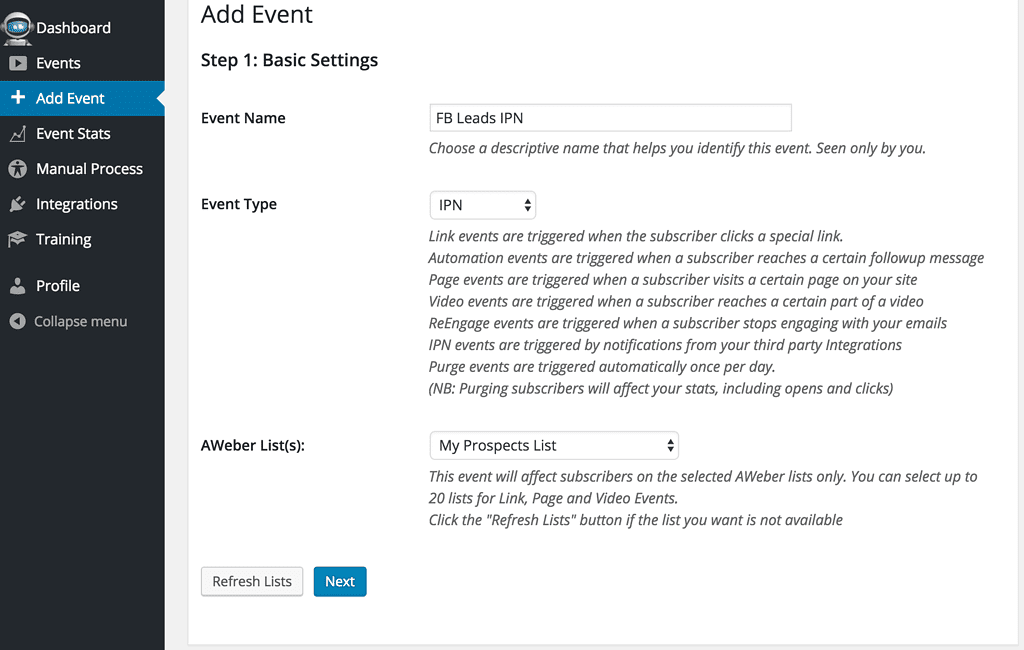 Next, we need to configure the Trigger settings: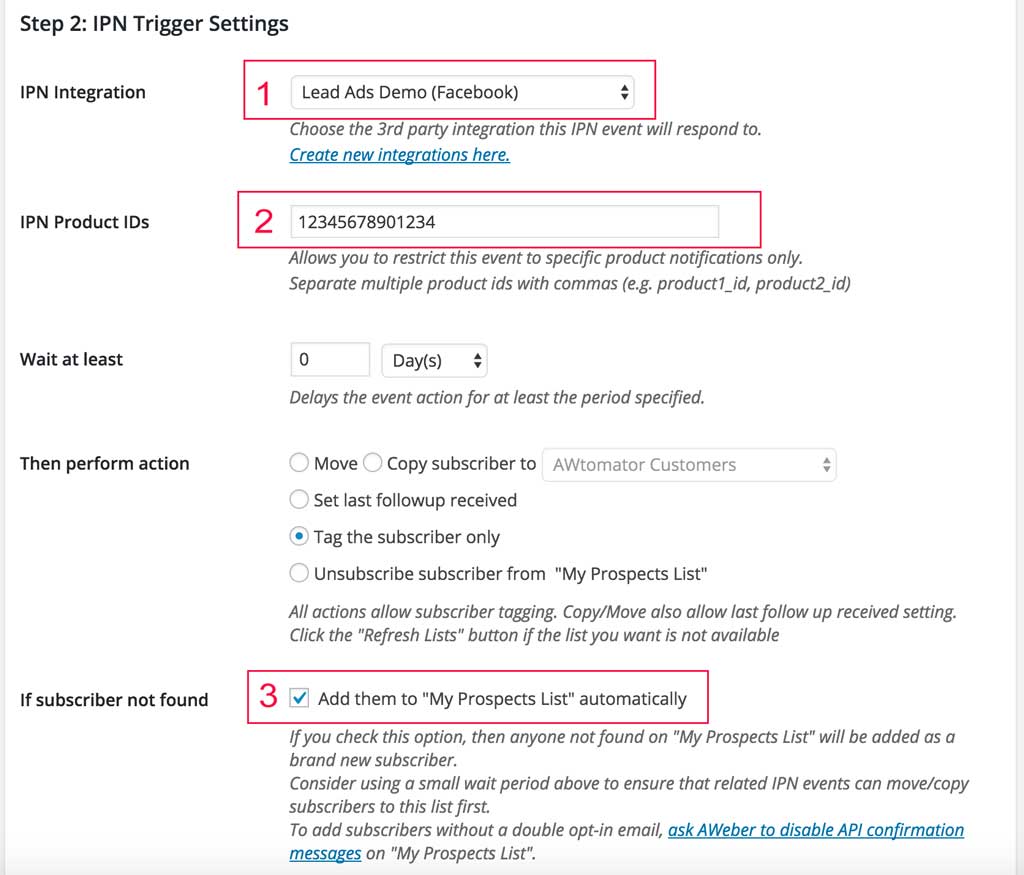 Pick the Facebook Integration you created in step 1
OPTIONAL: Enter lead form ids if you want to limit this IPN Event to just those forms. Leave it blank if you want it to fire for any of your Facebook Page's forms
Tick the option to add subscribers if they are not on the list already
Finally, after setting any tags you want the new subscriber to have, you're all done.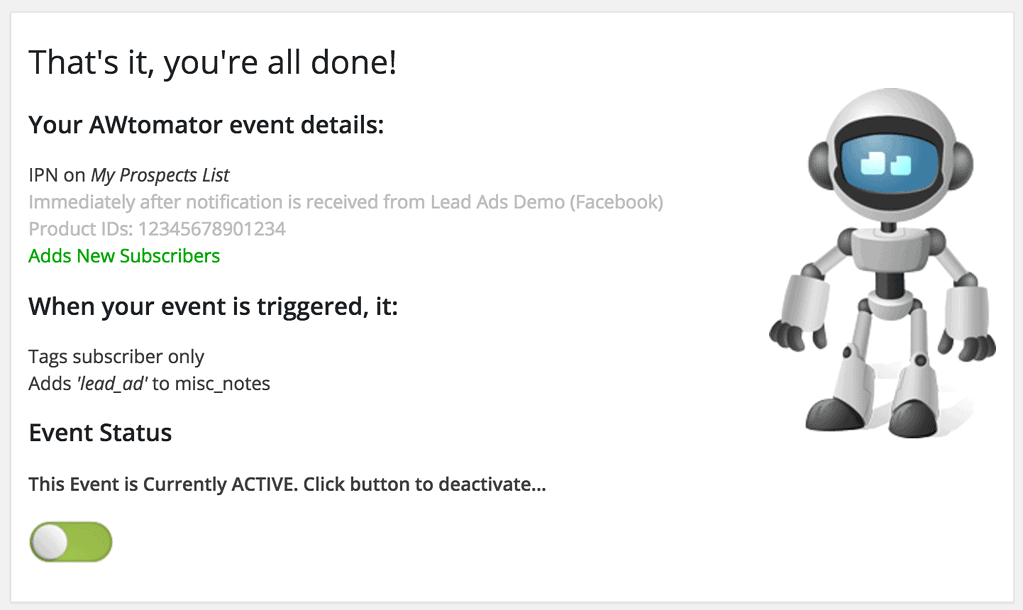 Step 3: Test your lead form
Facebook provides a handy lead form testing tool, which allows you to test you've set everything up correctly.
You simply select your Page and the Lead form, then click the button to Create Lead. You should then see a [email protected] lead appear on the stats page of your IPN Event, typically within 5 minutes.
When it does, you know you are all set!
(Be aware, however, that this test email will fail as blocked for policy reasons. You'll need to sign up "live" via the Lead Ad using your real email address for the email to be added.)
Now, your Facebook leads are automagically added to your AWeber lists within minutes of them completing the lead form, you can convert your leads and build your lists faster than ever before!
Pro Tip: When adding new subscribers, AWtomator will also try to map each Lead Form question to an AWeber custom field that is the lowercase of the Facebook question, with spaces replaced by underscore.
So, for example, if you had a Lead form Question called, "What Is Your Starsign?", then the answer would be added to an AWeber custom field called "what_is_your_starsign" when the subscriber is added.
Are you excited by this new feature? Leave your comments and questions below!
If you use AWeber, why not take a free trial of AWtomator and try this out for yourself!