Single or double (aka "confirmed") opt-in… it's always been a dilemma for marketers.
At first glance, the answer is clear – confirmed opt-in gives cleaner lists, and that ensures the best possible deliverability for your messages.
But confirmed opt-in has one major flaw.
If the subscriber doesn't get the confirmation email, they can't join the list.
And with the likes of Google and Yahoo controlling whether confirmation emails go to the inbox or junk/promotions folder, this can dramatically lower opt-in rates (even after accounting for subscribers who mistype or use fake email addresses).
Probably why more marketers seem to be recommending single opt-in these days.
But what if there was a way to get the best of both worlds?
The convenient user experience of single opt-in along with the delivery benefits of a confirmed opt-in list?
Well here's an idea that might just fit the bill, which I've called…
The Reverse Confirmed Opt-in Method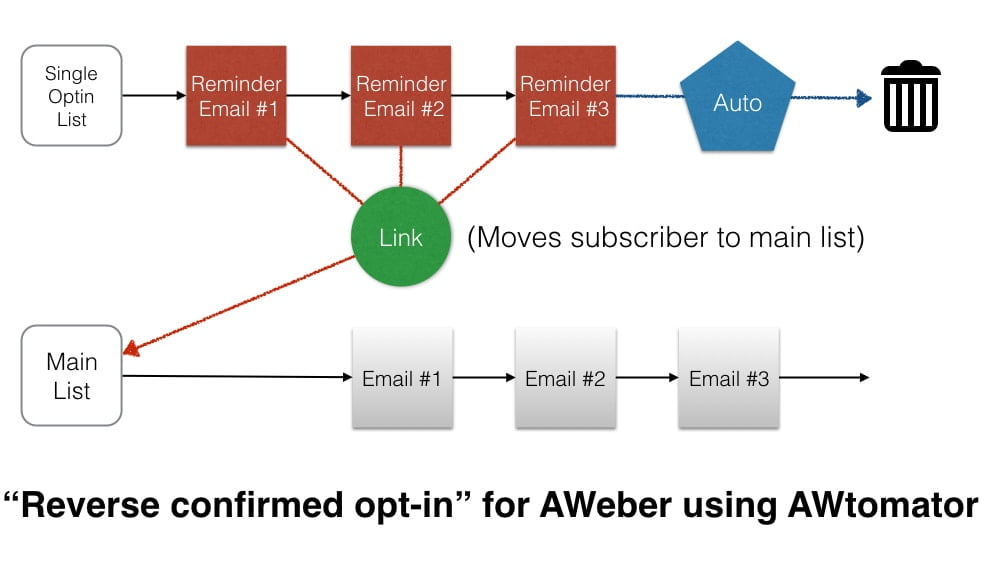 The idea is to have a single opt-in list which you use for signups in the normal way.
But, instead of using this as your main list, you simply set up a series of followup emails that push for a confirmation link click. So, if you were offering a lead magnet, you would send a series of reminders for them to click and go get it.
And you replace your regular link with an AWtomator Link Event that moves the subscriber to your main list before redirecting them to the content they wanted.
(Alternatively, you can use an AWtomator Tag Event to trigger the move when they open the email OR click a link)
That way, your main list ONLY gets subscribers with valid email addresses who actually wanted to hear from you… just like confirmed opt-in.
But, instead of giving them just one chance to see and click a confirmation link, you can now send as many reminders as you need to maximise your conversion rate.
And if they don't engage, you can unsubscribe anyone still on the list once they reach the the end of the followup sequence using an AWtomator Tag Event (if using Campaigns) or an AWtomator Automation Event (for legacy followups) and then delete them using an AWtomator Purge Event.
If your main list has confirmations enabled, then AWeber will ask for confirmation when the AWtomator Link event moves them.
If you can't turn that off (e.g. you have direct signups), you can ask AWeber to disable API double opt-in emails on your main list so AWtomator can move them silently and automatically. 🙂
What are you thoughts on this? Leave your comments below.