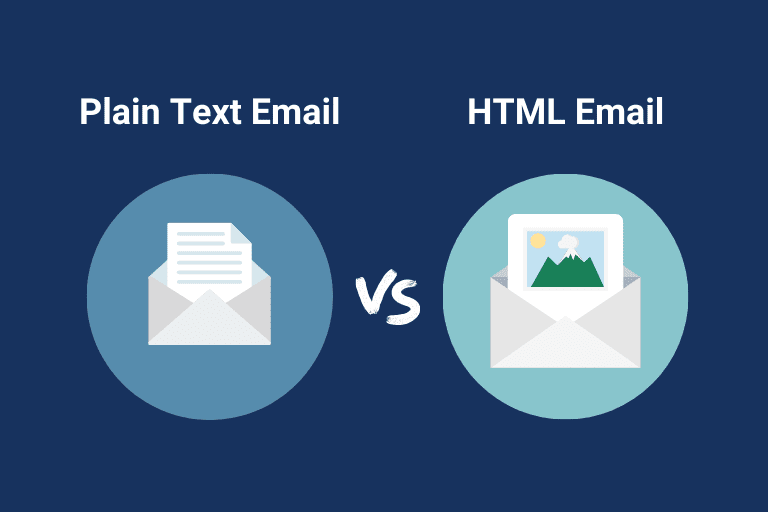 HTML vs Plain text emails is one of the longest running debates in email marketing.
Proponents on both sides fiercely defend their particular format, but which is better for your business?
Both formats have their benefits and drawbacks, making the decision of whether to use one or the other a difficult one. While choosing one format over another may seem like a small detail at first glance, it can have a big impact on your overall marketing strategy.
So, if you have ever wondered whether using plain text or HTML emails is better, this article is for you. Here, we'll take a closer look at each format, discuss its pros and cons, key differences, and answer which type of email you should use.
What does plain text email mean?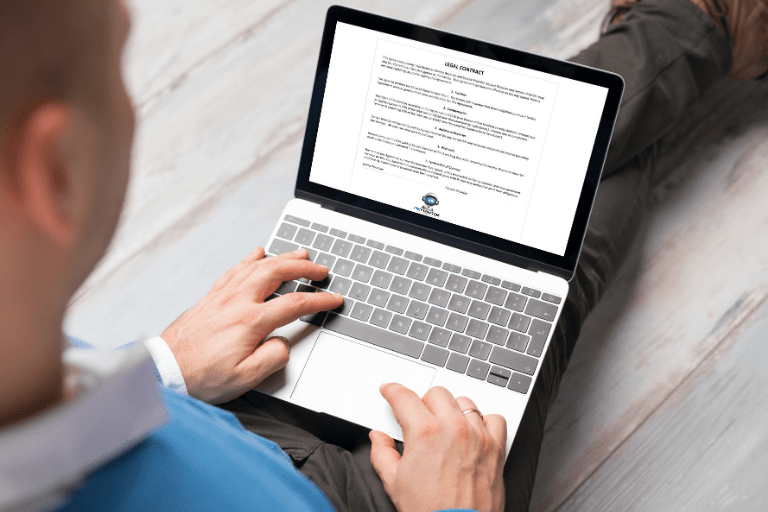 Plain text emails are exactly what they sound like. They're not flashy or fancy, and they are the most basic kind of email you can send because they contain only plain text. Since they're plain, there's not a lot of room for customization.
However, that doesn't mean they can't be personalized with copy and content! Plain text emails might be only text – they don't have any images or flashy descriptions, but as long as your message is clear and concise, you should be good to go.
Pros and Cons of Plain text email
Here are some of the pros and cons of plain text email:
Pros
All email applications and devices (including mobile devices), even outdated ones, can read plain text emails. This indicates that the email may be read by the recipient without any formatting issues or the requirement of any additional software.
Plain text emails offer a simple way to get your point across. They're easy for anyone to read and are supported by every email client or email provider in the world (including Gmail, Outlook and Yahoo!).
Text-based emails have smaller file sizes than HTML or rich text emails, so they take up less space on the server and download faster. This can be particularly important when sending emails over a slow internet connection.
Emails written in plain text are simple and easy to read. They don't have distracting graphics or colors, which can be useful for quickly and effectively conveying important information. They can also be easily copied and pasted into other files or email programs.
Plain text is the format of choice for reputable brands looking to deliver fast, simple and reliable email. It's a standard that has been tested over time and has withstood the test of time. With this format, there is no risk of your CSS being stripped by antivirus software, which means your email may land in primary tab instead of landing in spam folder or promotions tab.
Cons
The plain text version does not support rich formatting, such as bold, italic, or underline text. This can make it difficult to highlight key points or important information.
As plain text emails cannot include company logos, graphics, or other branding components, they may be less aesthetically pleasing and less effective at building brand recognition.
Multimedia features cannot be included in plain text emails, which can limit the types of information or messages that can be communicated.
Given their inability to include tables, charts, or other visual aids that might help convey complicated information in a more understandable way, plain text emails might not be the ideal format for presenting complex information.
Plain text emails have limited design options because they don't support the use of different fonts, colors, or other design elements that can help make the email more visually appealing or effective.
What does HTML email mean?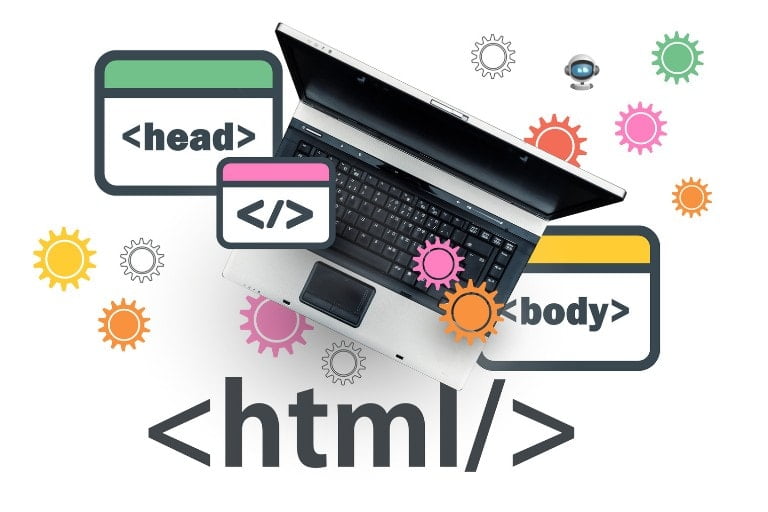 HTML stands for Hypertext Markup Language – a coding language that is commonly used in sites and web pages. HTML emails offer a new level of creativity and customization to the appearance of your text. These are written using HTML code, and offer design flexibility that allows you to incorporate graphics, add buttons (including clickable or embedded links), and embed images and videos.
You can also include text formatting such as making text bigger or smaller, customize the color or font, create tables of data, even add in extra spaced lines!
Pros and Cons of HTML email
Here are some of the pros and cons of HTML email:
Pros
It can be easier to create visually appealing emails with HTML emails' extensive formatting options, which include various fonts, colors, styles, and sizes.
Multimedia content like images, movies, and audio files can be included in HTML emails to add interest and make the email message more interactive.
HTML emails can include branding elements like logos, colors, or fonts, which can help the reader have a consistent brand experience.
When compared to plain text, HTML emails make it easier to understand complex or technical information, like tables or charts.
Using analytics tools, HTML emails may be monitored for performance and recipient behavior.
Cons
HTML emails may appear differently in different email clients or devices, resulting in formatting issues or inconsistencies in how the email is displayed.
Malicious code or viruses can be sent via HTML emails, harming the recipient's computer or other electronic device.
Certain email clients might not support HTML or might only support it to a limited extent, which can cause rendering problems or poor user experience.
Since HTML emails can often be larger than plain text emails, they may take longer to load, especially for those with older devices or slower internet connections.
When compared to plain text emails, HTML emails might be more difficult to create, especially for users who are unfamiliar with HTML or email design best practices.
Key differences between Plain text and HTML emails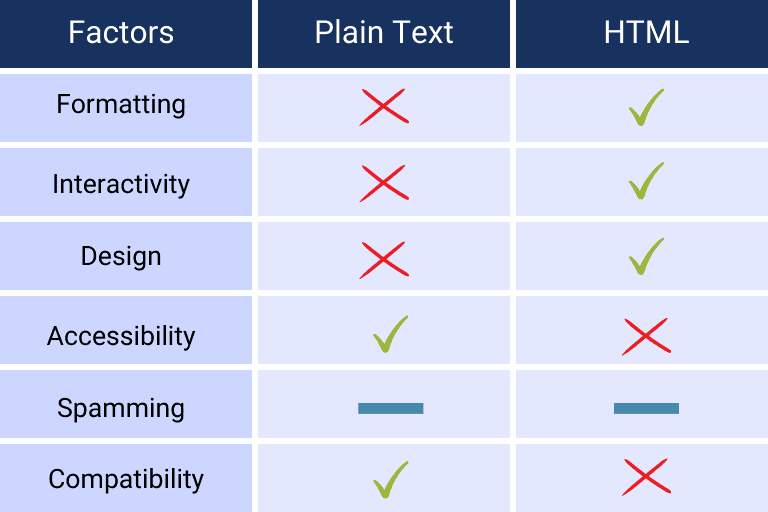 Plain text and HTML emails are two different types of emails. Let's dig deeper on their key differences.
Formatting
Plain text emails only support the most fundamental formatting options, such as line breaks and paragraphs, while HTML emails include a wide range of formatting options, including font styles, colors, photos, tables, and hyperlinks.
In this case,HTML emails are more advantageous when it comes to formatting.
Interactivity
HTML emails can include interactive elements like buttons, forms, and videos, while plain text emails cannot.
Hence, HTML email can be more interactive or engaging.
Design
Customizing an email template can be daunting for a non-technical person, particularly if you have little to no design experience. Hence, you may think plain text email would be more advantageous for this factor.
Here comes the HTML email templates.
Luckily, there are many platforms or email marketing tools like AWeber that have made it easy to create gorgeous emails without any coding skills needed – or even knowing how to use editing software.
This email marketing tool offers a lot HTML email templates you can choose from!
To add, HTML emails can be designed to match your brand, with custom fonts, colors, and layouts, while plain text emails have a more basic appearance.
In this factor,both plain text and HTML emails are found beneficial.
Accessibility
Plain text emails are more accessible to visually impaired readers and can be read aloud by screen readers, whereas HTML emails may be more difficult to read for some users.
It's a win for plain text emails in this factor.
Spamming
So, you spent hours creating that email and designing it beautifully. And then, to your horror, you find that your email has been marked as spam and it has been delivered to the spam folder. This is a terrible situation for any business and should be avoided at all costs.
However, it's not a matter of whether you are using plain text of HTML emails. Why is that?
Plain text emails have the potential of being flagged as spam if too promotional or important information is missing like unsubscribe link.
On the other hand, HTML can be weighed down by too many images, which may then land it in the dreaded "spam" category.
Regardless of the email types you use, at the end of the day, you have to make sure your email can be delivered and doesn't violate any anti-spam laws.
Therefore, neither plain text nor html emails is ideal in terms of spamming concerns.
Compatibility
Plain text emails can be read by any email client, allowing users to see messages in someone's inbox. However, some email clients may not support certain HTML elements, which can cause compatibility issues.
Thus, plain text emails are more compatible with email clients.
HTML vs Plain Text Email: Which works better?
Now that you know the pros & cons and the key differences between plain text and html emails, you may be wondering, "So… which should I choose?"
Before we answer that, let's take a look first at how html and plain text emails perform when it comes to deliverability and open & click rates.
Deliverability
While both have their benefits, plain text emails seem to have a bit of an edge over HTML emails – especially when it comes to email deliverability rate.
In fact, we found that emails sent with HTML fail to achieve a better deliverability rate because landing in spam filters is often related to bad coding and/or lack of a plain-text alternative.
After all, email providers have long become wise to spammers and phishing scams who send hide the content of their messages inside an image, or inside complex embedded HTML.
For deliverability, you should therefore always use the multipart/alternative format, and include a plain text version too. This ensures that all email clients will be able to read it, as the plain text version will be used if the HTML version cannot be rendered.
Pro Tip: Email marketing providers like AWeber will automatically create a plain text version of your HTML email in their editor.
Overall, when it comes to deliverability rate, plain text email is the winner.
Open and Click-through Rate (CTR)
While a lot of people believe that HTML emails are much more effective, the numbers don't necessarily prove it.
In fact, based on a test, it was found that HTML emails had a lower open and click through rates than their plain-text counterparts.
This can be due to several factors, including email clients being less compatible with custom code, or certain email clients disabling display of remote images by default for security.
It can also be down to customer preference. Humans like to connect with other humans, and a more personal email with minimal formatting can often resonate more strongly than a corporate or promotional looking email.
Therefore, plain text emails have a higher open rate and click through rate than the html version.
We can clearly see that in this HTML vs plain text email debate, plain text email is once again the winner in terms of open and click-through rates.
Which email format should you use?
After seeing the results, you are now probably thinking that "So I should use plain text email."
Well, it still depends. When choosing the type of email to use, it's important to consider a lot of different factors. It varies depending on what industry you are in, what your audience prefers, and what suits your messaging.
Industry Type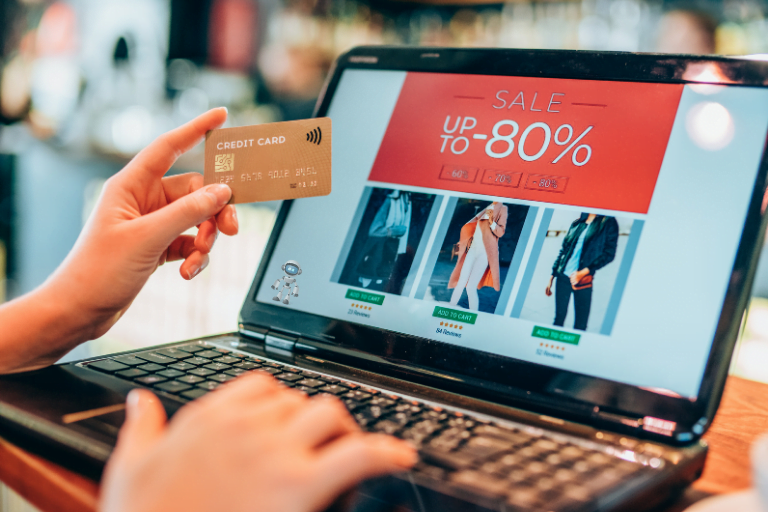 In the e-commerce industry, when you send an email to your customers, your main goal is to get them interested in your products and buy something. To do this, you need to provide them with options and make it easy for them to find and buy what they want.
Using HTML format in your marketing emails can be helpful in promoting your e-commerce business as it lets you incorporate images of your products, utilize various fonts and colors, and insert buttons that your customers can click on to purchase your items. Compared to plain text emails, HTML format is more appealing and user-friendly, making it simpler for your customers to browse through and buy what you're selling.
However, if your brand's focus is more on providing straightforward, no-nonsense communication, which is typical of Business-to-Business (B2B) firms, then it would be more suitable to use a plain text email.
Audience Preference
Different people like different kinds of emails. Some like simple emails with no pictures, while others like emails with pictures and bright colors.
To make sure people like the emails you send, you need to know who you are sending them to. You should think about what those people like and what they are interested in.
You can check how many people open and click on your emails to see if they like them.
You can also try sending the same email in both formats. By doing this, you can learn what kind of emails work best for your audience and improve your email campaigns.
Messaging style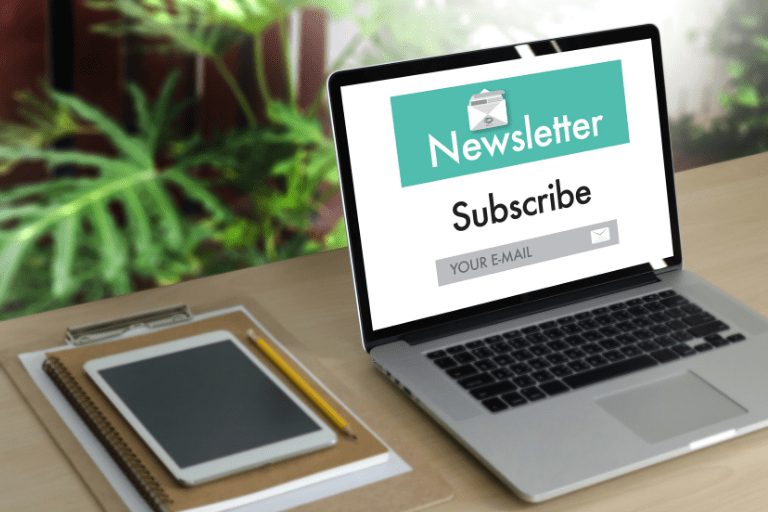 Product promotions and newsletters typically contain valuable content that readers will want to read. If you want to send these types of emails, create these in HTML format to allow for engaging layout and images.
Meanwhile, if you want to send surveys and transactional emails, it should be sent as plain text/hybrid emails so they automatically load on all email platforms.
Still unsure? Do some A/B tests!
There are plenty of theories on what makes a great email, but the truth is that there isn't one answer that fits all for all industries.
We believe that the best way to determine what type of email will work best for your business is to test it out and see which one works better.
One of the ways you can do this is through A/B testing. A good email marketing provider like AWeber will offer A/B testing out of the box.
The best format for email signatures
HTML is the format of choice when it comes to composing a professional and more attractive email signature.
Email signatures using HTML format are more flexible than their plain text counterparts. This is because HTML emails can offer better designs, animations, color combinations, and more functionality than plain text email equivalents.
For example, you can place your photo in the top left corner of your HTML email signature, add an image as background image for your text. Moreover, you can even create your own custom CSS styles and apply them on header and body tags of your email signature.
Final Thoughts (What format do I use?)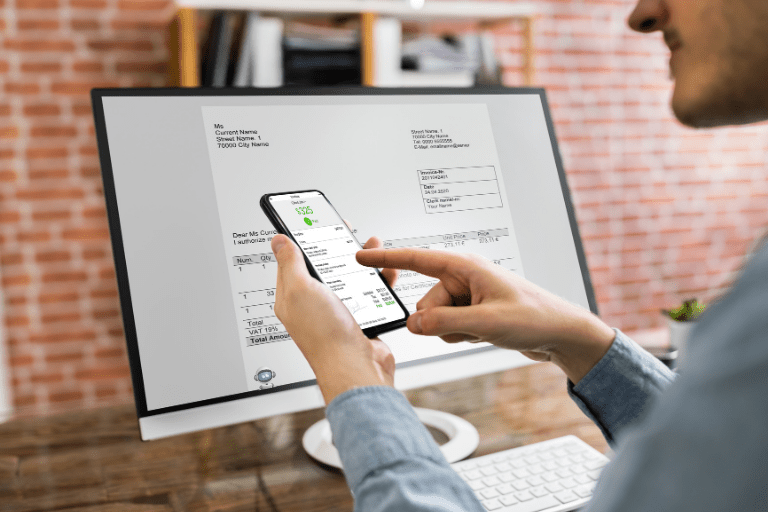 Personally, I use a very basic html email format for my emails (known in email marketing circles as a "hybrid email").
Hybrid emails LOOK like regular, plain text emails, but are built using HTML. If you compared the HTML and plain text versions, they would look almost identical.
It looks like the kind of email you probably send and receive every day with friends.
This hybrid email style allows me to have a personalized, one-on-one conversation with my subscribers and keep my emails as accessible and compatible as possible.
But I can also use embedded multimedia (images/video) or text formatting if I wish.
In short, hybrid emails tick all the boxes by giving all the advantages of HTML vs plain text emails and none of the downsides.
I'm not alone here either – around 62% of email marketers use hybrid emails because they look more natural and personal, and less "salesy" than HTML heavy newsletter style emails.
And that results in way more engagement, such as link clicks and even replies!