Automation tools are just one of the factors that make AWeber a fantastic email marketing platform for small to medium-sized businesses, and list automations are undoubtedly some of the most effective.
In this article, we'll look at what AWeber list automation is, and how it can help you streamline your email marketing and stimulate business growth.
Defining AWeber List Automations
As I'm sure you've guessed, list automation has a lot to do with lists on AWeber, so before we can dive into a definition, we need to discuss what's meant by "lists" within this context.
What's A List In AWeber?
An AWeber list is kind of container that holds all the subscribers you wish to send emails to, and all the autoresponder emails they can receive.
Depending on the plan you choose, you can create one or more lists in AWeber.
So What Exactly Is A List Automation?
In a nutshell, a list automation will automatically add or remove a subscriber from one list when they subscribe or unsubscribe to another list.
For example, it's common for businesses to use AWeber to use two contact lists: prospective customers (prospects), and converted (or existing) customers.
When a prospective customer makes a purchase and subscribes to the customer list, you can use automation to have their old subscription canceled.
List Automation Rules
List automations can be tailored to many situations, but these automatic contact transitions must always be based on one of the three following rules:
Subscribe-on-subscribe — This means that a contact will automatically be subscribed to one list when they subscribe to another.

For example, if Joe Bloggs signs up for list A, they will also appear on list B.
You'll want to set this automation when two lists have synergy.
In other words, if the lists are related and complement one another, it makes sense for the subscriber to receive both sets of emails.
An example of this would be to add a subscriber to your weekly newsletter when they sign up for one of your Lead Magnets.
Unsubscribe-on-subscribe — Here, when a customer subscribes to one list, they will automatically be unsubscribed from another list

For example, if Joe Bloggs subscribes to list B, he will be removed from list A.
You'll need to use this rule when the act of a contact subscribing to a new list renders their previous subscription redundant.
Moving a prospect to a customer list when they make a purchase is a perfect example of this rule in action.
Unsubscribe-on-unsubscribe — With this automation, a contact will be unsubscribed from one list when they unsubscribe from another

Fo example, Joe Bloggs unsubscribes from list A, and thus, will be automatically unsubscribed from list B as well
This rule follows the same synergistic principles as the subscribe-on-subscribe rule in that the lists are so relevant to one another that if somebody opts out of one, the other must also be irrelevant.
When implementing list automations on AWeber, you're simply picking one of these rules and then specifying which of your lists it applies to.
The Pitfalls Of Not Using List Automation In AWeber
List automation optimizes your email flow, making sure everybody on your lists receives the correct information.
This can be done manually, but it's an incredibly tedious job that would eat up an awful lot of man-hours. Besides, this would open up the possibility for human error, which can be damaging to your revenue.
Let's say, for instance, that one of your customers has slipped through the cracks and hasn't been moved from the prospect list to the customers list.
They may well receive a continuous barrage of emails urging them to purchase the very thing they just purchased!.
Eventually, overexposure to poorly targeted emails can sour the relationship, and before you know it, they've unsubscribed from your email list.
Think of all the products or services this customer could have bought moving forward.
None of that can happen now.
If the same problem affects multiple customers, you're looking at some serious lost opportunities and ultimately, business growth will suffer.
How To Set Up List Automation In AWeber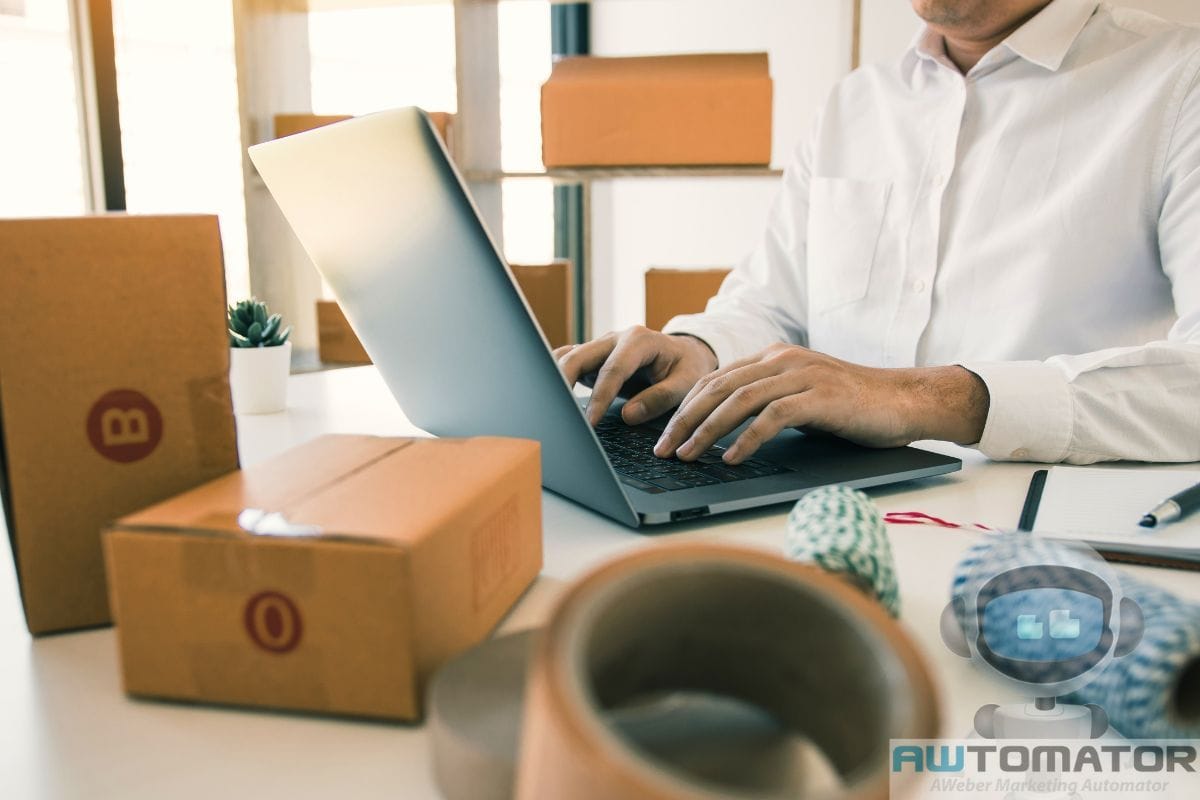 Now you know what list automations are, let's discuss how you can create your very first one!
Find the "list" dropdown menu on your navigation bar, then select the primary list you want to trigger the automation.
Next, head to the "Automations" tab then click "List Automations".
Now a menu will appear asking you to define your automation in two fields. The first field will establish the automation rule you want to apply as well as the list it will apply to.
The second field will establish the list that will be affected by the rule.
Click on "Save" button, and voilà; you've just completed your first list automation on AWeber — Hooray!
Now you just have to repeat the process until all your contact lists are optimized by automation.
Once complete, your contacts will always receive the appropriate emails, no matter how they interact with your site, increasing the chances they'll spend more money on your products or services.
Can You Use List Automation On The Free AWeber Plan?
Unfortunately, as you can only create one list on the free version of AWeber, list automations are irrelevant, as they require at least two lists to function (see also 'How Many Lists Can You Have On AWeber?').
As such, you will only be able to use list automation if you sign up for AWeber Pro.
How Do People Get On Your AWeber Lists To Begin With?
There are two ways to build contacts on your AWeber lists. One is to tie automatic subscriptions into certain actions and interactions.
For example, you could integrate your payment provider with AWeber and automatically add subscribers when they make a purchase from your site. Or you might wish to move a subscribers onto a certain list when they land on a specific page on your site
AWeber offers a huge array of integrations (over 700!), and you can do some even more advanced integrations using the AWtomator add-on for AWeber.
The other way is to simply include an "opt-in" checkbox in the relevant places on your site, allowing the customer to make up their own mind about what sort of correspondence they receive from you in the future.
Can I Add Individual Subscribers To Multiple Lists?
You can absolutely add individual subscribers to multiple lists, and you can automate this process using the "subscribe-on-subscribe" rule discussed earlier, eliminating what would otherwise be a grueling manual process.
Final Thoughts
You may not need list automation when you first start out, but as your business grows, it's going to be one of the most essential arrows in your quiver.
In fact, even if your lists are relatively modest at the minute, I'd recommend playing around with automation and mastering it ahead of time, so when it becomes an integral part of your outreach strategy, you know exactly how to maintain business growth!