If your AWeber account was created after 02/03/2020, this article will not apply as the legacy Follow Up Series was not available in your account.
AWeber announced they will retire legacy follow ups in June 2022.
The decision comes 7 years after they first introduced Campaigns, and the retirement of legacy followups will allow them to focus development and training efforts towards their more modern features.
All customers with legacy followups will find they are automatically converted into Campaigns on or shortly after the 22nd June, with AWeber emailing customers both before and after the upgrade.
AWtomator has supported both Campaigns and Legacy Follow Ups from the start, and this welcome development will certainly simplify our service, customer support and tutorials going forwards!
Thankfully, the bulk of our customers have embraced Campaigns over the years, so there are only a handful still using AWtomator features designed to support AWeber Legacy Follow Ups.
Here's what you need to know…
Goodbye AUTOMATION Event
The AUTOMATION event was how we moved subscribers from one AWeber list / message to another when they reached a certain legacy follow up message.
It allowed Campaigns style 'choose-your-own-adventure' pathways before Campaigns even existed!
This event will be obsoleted by the removal of Legacy Follow Ups, and we'll be removing it as soon as AWeber is done converting legacy follow ups to Campaigns.
The action you need to take will depend on how you are using them…
Automation events were typically used in three scenarios:
1) Set A Campaigns Tag From Legacy Follow Up
Automation events bridged the world between Legacy Follow Ups and Campaigns by allowing Campaigns tags to be set when a subscriber reached a certain legacy followup message.
Once the migration to Campaigns has been completed by AWeber, customers should simply remove such automation events and set the desired tag directly as part of the Campaign.
2) Move/Copy Subscribers To A Different List
A popular use of AUTOMATION events was to move or copy subscribers from one list to another when they reach a certain trigger message or the end of the sequence.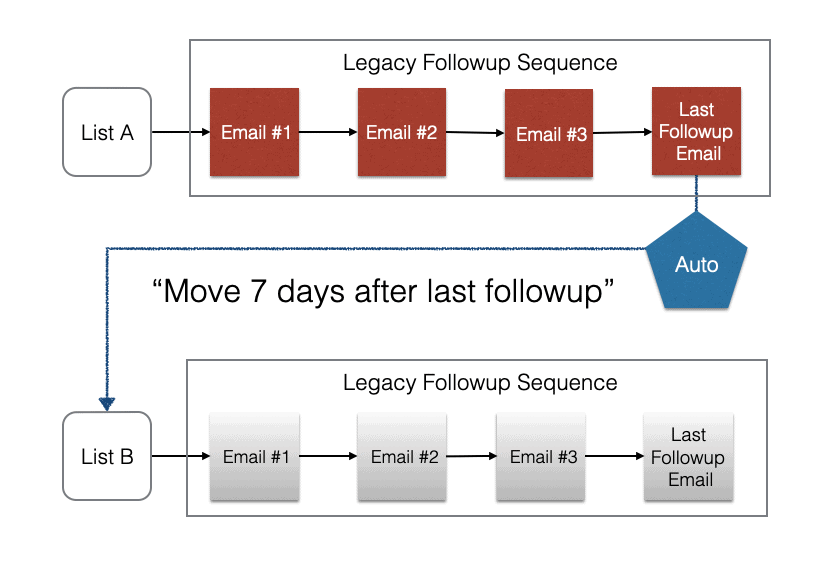 Once the migration to Campaigns has been completed by AWeber, customers should convert such automation events into TAG events and insert the event's trigger tag into the newly converted sequence at the appropriate spot.
Hint: Converting an Automation Event to a Tag Event is simple – just edit your existing event and chage the event type from Automation to TAG! Save the event, and grab its trigger tag, which will be in the format awt_XXXX , where XXXX is the event's unique ID.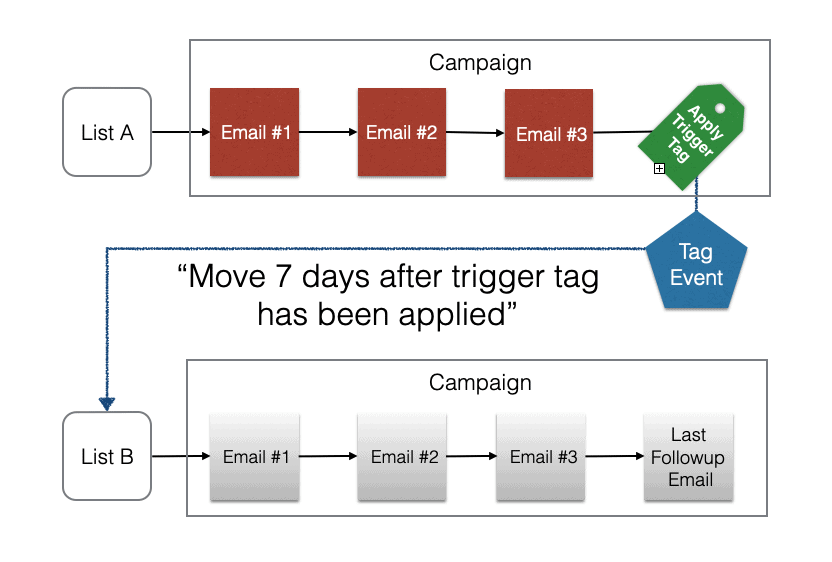 Naturally, a Campaign on the destination list can be started if required by setting the Campaign's trigger tag as part of the Tag Event's action.
3) Put Subscriber On A Specific Message
Finally, AUTOMATION events were used to jump a subscriber to a specific message in a legacy followup sequence, either in the same sequence or when copy / moving between lists.
Usually, this was the first message to start a sequence, or the last message (or message 1001 – no more followups) if the legacy follow up sequence wasn't relevant to the subscriber.
After the migration of Legacy Follow Ups to Campaigns, you will have more control over when the Campaigns sequence starts or stops, so you might consider:
The only real wrinkle is if you jumped subscribers to a message mid sequence, such as in a legacy follow up 'choose your own adventure' style sequence, like so: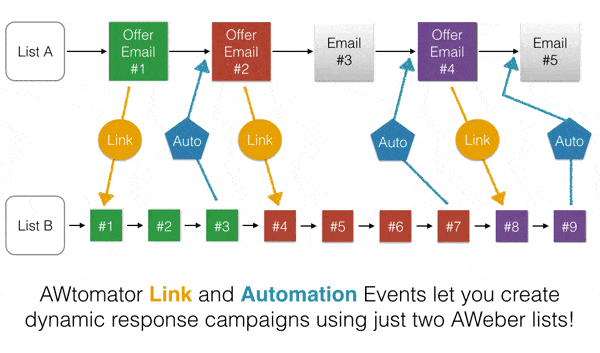 Most customers moved away from this use case when AWeber Campaigns became established, but any customers still using an Automation event to move to a specific mid sequence Legacy Follow Up need to split their sequence up into multiple Campaigns.
In this circumstance, we recommend you follow AWeber's instructions to manually convert your legacy Follow Up Series to Campaigns and get everything set up fresh using tags and Tag Events to move subscribers between Campaigns as required.
Impact On Other AWtomator Events
All of AWtomator's events supported legacy follow ups, so some of the settings will become obsolete when Legacy Follow Ups disappear.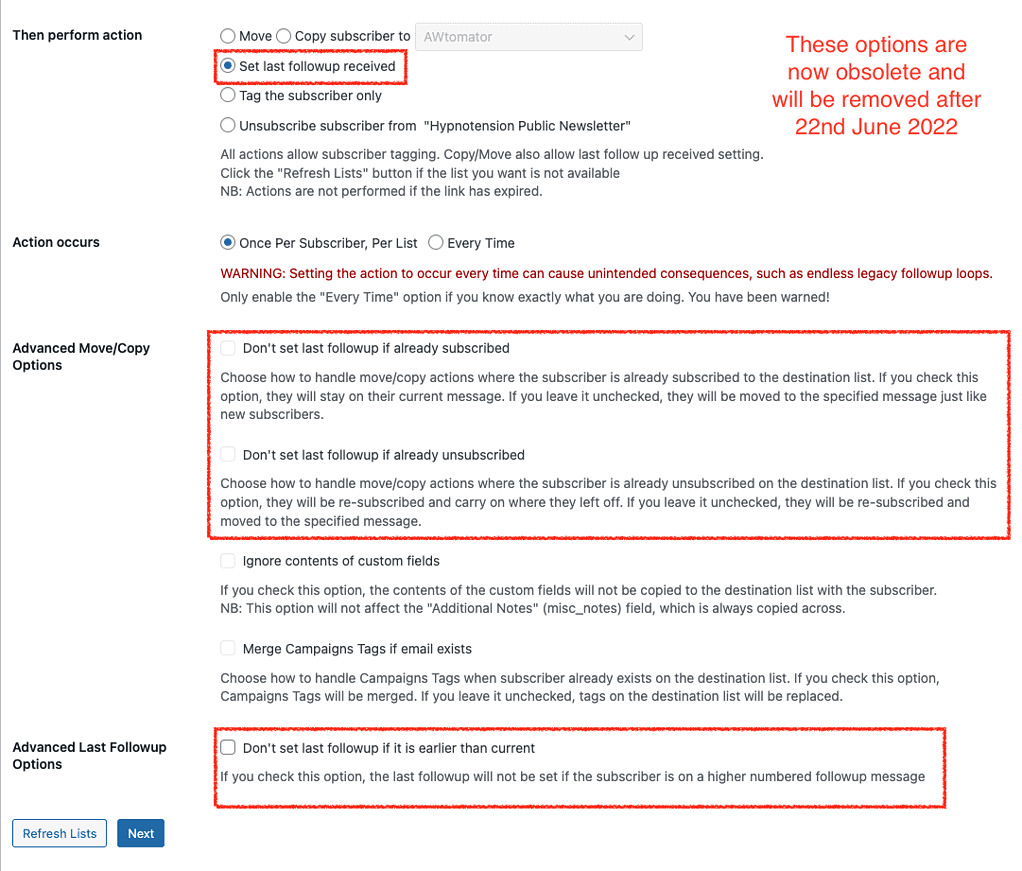 We recommend customers check their AWtomator events to ensure any events that MOVE/COPY or Set Last Follow Up options are tweaked as needed so they still work as intended after the migration.
As above, this only applies if you had an active legacy follow up sequence on the destination list and the action you need to take depends on the legacy message being set by the event:
Start Over – if the event resets the legacy followup to message 0, switch to using a Campaign tag based trigger for the campaign (and consider allowing multi-entry)
Last Message – if the event skipped the subscriber to the end of the follow up sequence, look at using trigger tags to remove the subscriber from the Campaign instead.
Mid Message – if the event jumped the subscriber to a mid sequence message, then look to split the Campaign into smaller chunks as per the AWeber legacy follow up retirement notice.
Final Thoughts
This is an exciting development – one we've been hoping would come for a number of years. It will allow us to not only simplify AWtomator's many options but also our tutorials and solutions too.
And the great news is that this change will not affect the majority of customers who have already moved away from Legacy Follow Ups (or who never knew what they were!)
Change is not always easy, of course, so any AWtomator customer who is concerned about how the retirement of Legacy Follow Ups will affect them, please get in touch and we will be happy to advise.