AWeber is an email marketing provider that lets you build up an audience of subscribers, then send them news, content and offers by email.
You can use AWeber for affiliate marketing in TWO main ways:
Recommend affiliate products to your audience
Recommend AWeber itself to your audience
And best of all, you can get started with AWeber for free.
But we're jumping ahead a little bit here.
In this guide, I'll provide you with everything you need to know about affiliate marketing, how to make money with AWeber using affiliate marketing, as well as how you can promote AWeber itself as an affiliate.
Let's start with the basics:
What Is Affiliate Marketing?
Affiliate marketing is a form of mutually beneficial marketing arrangement that allows marketers and product owners to work together at arms length.
Affiliate marketing can be very lucrative, and some of the most successful affiliate marketers earn five or six figures per MONTH.
In a nutshell, affiliate marketers promote other peoples products in return for a commission on the sale. The commissions may be one-off or recurring, and are paid from the profits of the sale like a regular marketing expense.
It's an attractive business arrangement for everyone involved:
Product owners – get more sales and only pay for results
Affiliate marketers – can promote a wide variety of products without worrying about fulfilment / inventory etc
Customers – get the same price or better than they would by going direct
As you can see, it's a model that creates a triple-win.
Affiliate schemes may be run directly by the product vendor, but are usually brokered through a 3rd party affiliate network.
How Do Affiliate Marketers Make Money?
Although it can be handled in many ways, sales are typically tracked back to an affiliate marketer using special web links that set cookies on the customer's web browser.
The duration of the cookie varies by program. Amazon, for example, sets a 1 day cookie, but most affiliate programs have 30, 60, 90 and sometimes 365 day cookies.
If the customer uses an affiliate marketer's tracking link (aka "Affiliate link"), the product owner can credit them with the sale and pay out a commission if a cookie was found.
Some affiliate schemes use coupons to track sales.
Each affiliate marketer is given a unique discount coupon they can offer to their audience, and sales are tracked by checking which coupon was used by the customer.
Affiliate marketers like affiliate coupon schemes because they are a pretty bulletproof way to track sales, and they create massive goodwill with their audience.
Because of this, coupon discounts are usually taken out of the available commissions.
That said, vendors may offer tracking coupons to high value affiliates as a bonus, in which case the product owner soaks up the discount leaving the commissions intact.
However the tracking works for a particular affiliate program, when you refer a sale, you'll get a commission, usually based on a percentage of the sale amount.
Commissions may be one-off or recurring, and you will get paid whenever your balance reaches a certain threshold.
Payments are often delayed by 30 days or so to ensure products are not refunded.
Before You Start: Affiliate Marketing 101
Before you pick a product and begin your venture into affiliate marketing, there are a few things you need to consider.
The first is, what are you actually going to market?
You need to consider the wants and needs of your audience, and how the product you want to feature is actually going to impact them.
Are they going to be interested in your product at all?
Try to think about the pain points that your audience may have, and what would make their lives easier.
Customers usually tend to buy things because they believe it will make their life better in some way, so consider this before deciding what you want to feature.
Are any brands of the products you currently use offering an affiliate program?
Your audience will be much more likely to respond better to a suggested product if they know that you regularly use that product yourself.
Finally, remember that your relationship with your audience is fragile. If you promote shoddy products just for the money, you'll quickly lose the trust of your audience.
How To Get Started With Affiliate Marketing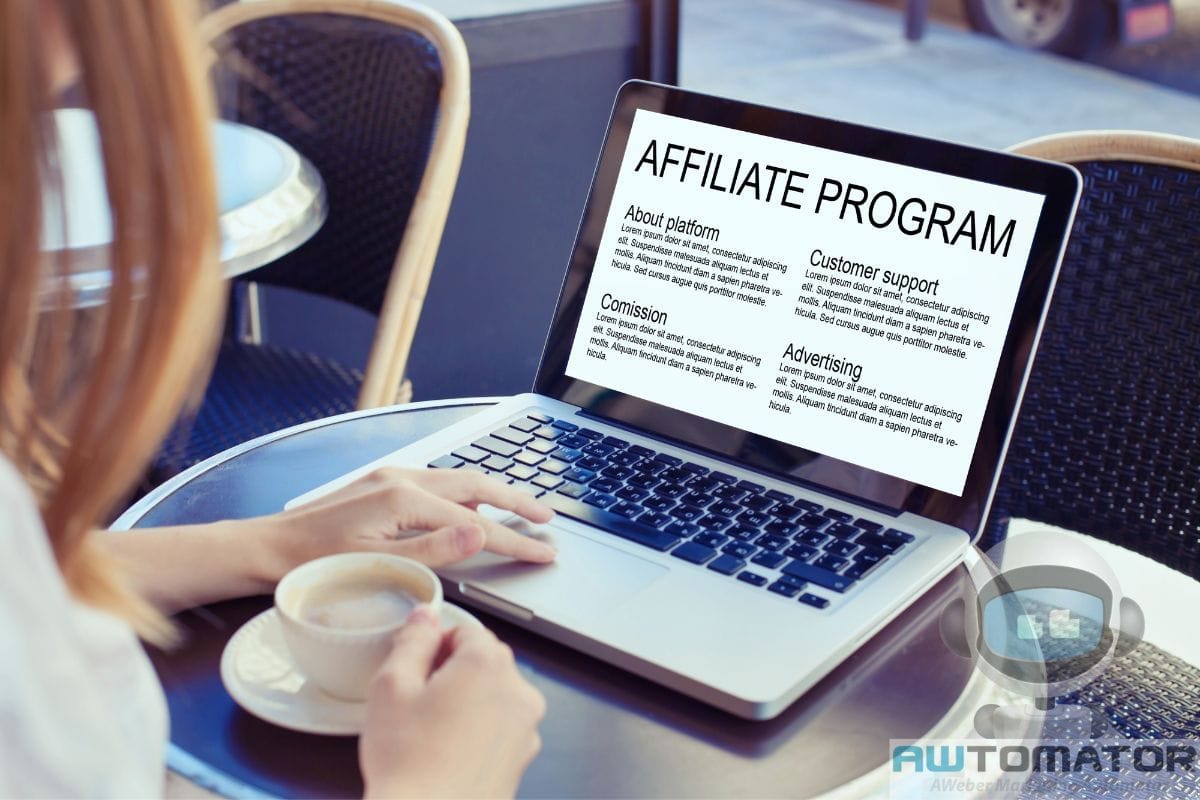 Once you've identified the kinds of products your audience might be interested in, it's time to go find the products and sign up for their affiliate programs.
Some vendors will have a way to sign up on their website, but many others use affiliate networks to manage their programs.
We recommend you sign up for some of the well known networks, and see what is available – you'll be surprised how many high street brands offer an affiliate scheme!
Some of the popular networks include:
Once you've signed up with an affiliate program, then you'll usually be provided with a special product link that will credit the sale to you when someone purchases the product, which is how the business keeps a track of the commission it owes you.
Is AWeber Good For Affiliate Marketing?
Some services, like MailChimp, have a strict no affiliates policy, and will actively shut down the accounts of anyone attempting to promote anything as an affiliate.
AWeber is especially loved by affiliate marketers, because it's one of the few email marketing services that has an affiliate marketer friendly terms of service.
This means you can use affiliate links in your AWeber emails without constantly worrying that your account could be shut down at any moment.
This gives you the freedom to be able to recommend products and services you love to your email list, and earn commissions for those recommendations.
Does AWeber Have An Affiliate Program?
AWeber not only welcomes affiliate marketers, it also has its own affiliate program.
So as well as being able to promote other people's products for affiliate commissions, you can also promote AWeber itself!
AWeber calls their affiliate program an "advocate program", because their affiliates tend to be active AWeber users as well.
Joining AWeber's advocate program is simple, and there's no cost to sign up either.
Step 1 – Signup To AWeber Free
The most successful affiliates know AWeber inside out, so we HIGHLY recommend you also register for AWeber's email marketing service.
This also gives you the ability to grow your own audience and start marketing to them.
To start with, just get the Free plan.
You can always upgrade to AWeber Pro later once you start earning some commissions, or when you are ready for AWeber's more advanced features.
Step 2 – Join The AWeber Affiliate Program
Logout of your AWeber account and then sign up for an advocate account.
Your advocate account is separate to your main account, and gives you access all their marketing materials and your unique referral link.
Some ways you can begin to incorporate your unique advocate URL across your channels and start earning money, include:
Email signature
In parts of your website or blog
In a chat message or email
As a link on an image on your website
In a YouTube video or YouTube description.
AWeber provides lots of marketing materials to help your promotions – including PDF guides you can share, social media posts, banner ads and videos.
Where Is My AWeber Affiliate Link?
You'll find your affiliate links at the top of the screen when logged in to your AWeber associates account.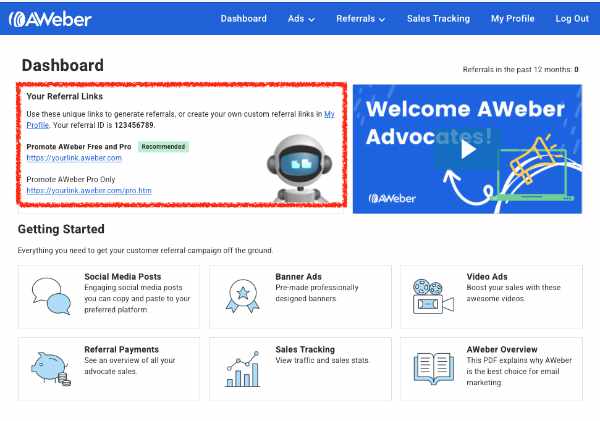 It's important to note, your advocate account is separate to your main AWeber account.
One thing that confuses people is the fact the AWeber advocate login page is actually the main AWeber login screen!
To avoid confusion, remember:
Your main AWeber email marketing account has your EMAIL as the username
Your AWeber Associates account has a NUMERIC ID as the username.
You'll use your main AWeber account for email marketing to your subscribers, and your Associates account for tracking sales of AWeber itself.
In this respect, your AWeber Associates account is similar to a ShareASale or ClickBank account, except it only allows you to promote AWeber!
Is The AWeber Affiliate Program Worth Promoting?
If you have an audience that would benefit from AWeber's email marketing service, then yes, AWeber is worth promoting!
AWeber's target audience includes:
Content creators like authors, bloggers, and podcasters
Professional services like FitPros / coaches
Marketing consultants and agencies
Realtors and Financial planners
Clubs and societies
Bands
Their commissions start at 30% and go up to 50%, and the commissions are recurring for the lifetime of the customer.
So you'll keep getting commissions every month the customer stays active
If that's not enough to convince you though, here are some of the other benefits of joining their advocate program:
No cost to sign up
Payments sent quickly via Paypal
Dedicated advocate management provided
Extra training and learning resources provided
Not only that, but when you encourage people to signup for free, you'll get a commission when they upgrade to Pro.
And it doesn't matter if that's a day or a year from signup!
As you can see then, if you feel your audience would benefit from AWeber's service, then joining their advocate program is certainly going to be a good idea, as it's an easy source of recurring income alongside your main income.
What's more, AWeber pricing is very competitive, especially for smaller accounts, which makes it easy for your free plan clients to upgrade when the time is right.
Summary
To summarize, if you want to earn some extra income, then using AWeber as an affiliate marketer is an excellent way to do so.
And if you want to see an affiliate marketer setting up an affiliate landing page offer in AWeber, check out this 3rd party video from YouTube.