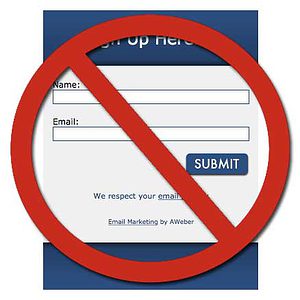 Until now, if you wanted to move a subscriber to a new list, you only had one real option – use an opt-in form.
But we all know that the minute you present an opt-in form, it introduces friction – and many subscribers just won't do it.
So whilst it might work ok in some cases – it can require quite a bit of 'sell' to make it work:
Thanks for purchasing an XYZ doohickey – to make sure you get priority support, please join our VIP customer list…
Sound familiar? We've all been there.
The great news is that using AWtomator, you can now move or copy subscribers between your AWeber lists automatically and invisibly when they either click a link in one of your emails (Link or Tag Event), or visit a certain page on your website (Page Event).
And the best bit is that this is achieved using 100% officially supported and permitted AWeber APIs, which means that just like the rest of AWeber, you will only get in trouble if you generate lots of complaints from your subscribers.
So now you can create AWeber lists (see also 'What Is List Automation In AWeber?') that focus on specific topics or offer sequences, and then allow your subscribers to join these 'campaigns' simply by clicking a link in their email.
In effect, AWeber and AWtomator combined allow you to build dynamic campaigns which adapt to your subscribers interests – just as you can with systems like InfusionSoft, which cost vastly more each month.