UPDATE:
AWeber has now released
Campaigns Automations
, which means you can now set Campaign tags when an email is opened without using AWtomator.
If you need to perform other AWtomator actions when an email is opened (e.g. unsubscribe, move/copy, coupon distribution, or adding the subscriber to a Facebook audience) then we now recommend you use our new Tag Event in conjunction with AWeber's Campaigns Automations.
AWeber Campaigns lets you trigger a series of messages when a tag is applied to a subscriber.
AWtomator enhances AWeber Campaigns by allowing you to tag a subscriber and trigger (or suppress) a sequence of messages when they open one of your AWeber emails too.
This makes it really simple to do all kinds of ninja stuff for people who open an email, like:
Start a specific campaign sequence
Suppress a re-engagement campaign
Move or copy them to a new list
And a whole lot more besides…
Here's how to do it.
Step 1: Create a Page Event
Firstly, we create a Page event, which is an event triggered by a website pageview or email open, and grab the image URL from Note 3 on the code page (highlighted).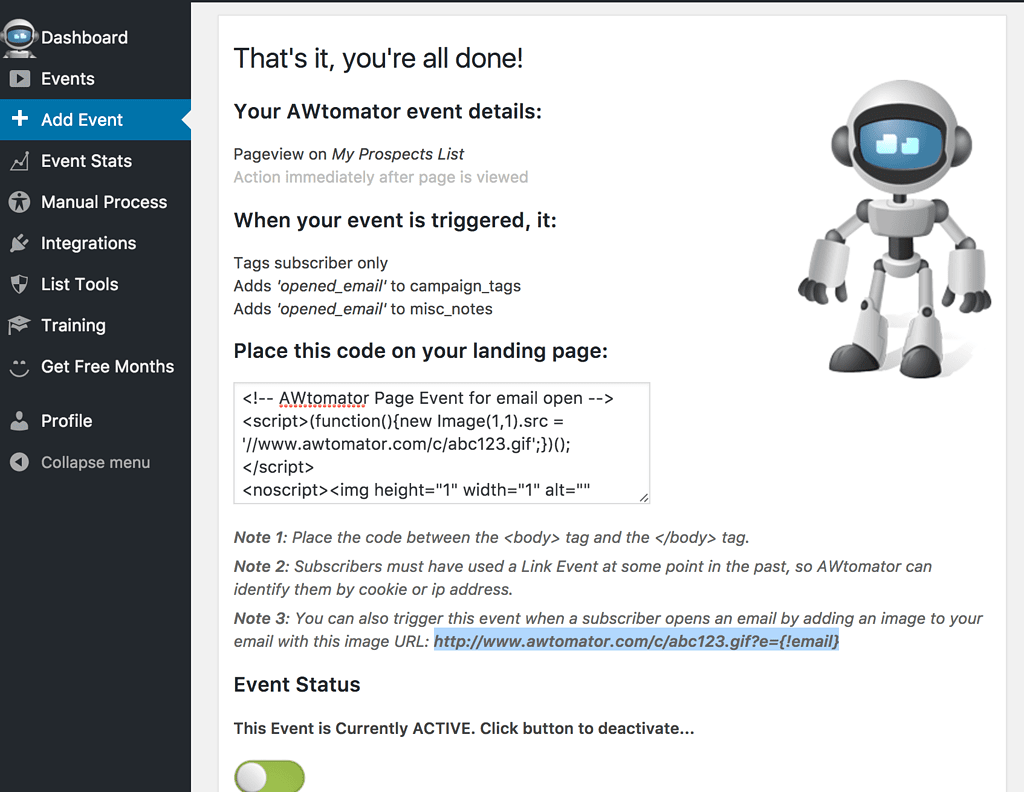 Step 2: Add the event image to your email
That's it! Now, when the email is opened, the page event will fire, and it's action will be performed.
NOTE:
The email url version of the pageview event code gets personalised with the email address and so self-identifies the subscriber to us. You
*do not*
need to follow the
best practice advice
in this case.
How will you use this in your business? Leave your comments, questions and ninja use case ideas in the comments below… and if you are not yet an AWtomator user, but want to try this out for yourself, take a free trial of AWtomator below.