Branding has never been more important than it is today.
Not only does your brand communicate who you are and what you can do for people, it helps to establish trust between you and your potential customers.
AWeber makes it simple to brand your emails lists with a custom domain name, which not only gives your emails more personal feel, but also helps your deliverability.
This article will walk you through the simple steps required to connect a custom domain with AWeber.
What Is A Custom Domain?
Before we dive into the guide, let's begin with a quick custom domain explanation.
You know the web address you type into your search bar to reach a site?
That's a custom domain name.
aweber.com, google.com, and twitter.com are all examples of custom domains.
You don't need a custom domain to use AWeber, but you will be allocated a url based on AWeber's domain, which can weaken your brand and potentially confuse visitors.
The Easy Option: Purchase A Custom Domain Via AWeber
Did you know that you an order a custom domain from within your AWeber account?
Well, you can! AWeber uses Google's registrar service, Google Domains, to provide a domain registration service.
And if you do decide to take this route, AWeber will automatically link up to the custom domain you purchased, meaning you don't have to lift a finger — WooHoo!
How To Buy A Google Domain Via AWeber
It's really very easy to grab a custom domain via AWeber. Here's how it works.
Step 1
Log in to your AWeber account.
Click on your name in the bottom left-hand corner of the menu.
Click "Domains & Addresses".
Step 2
On the "Domains & Addresses" menu, your may be tempted to use the big blue button that reads "Add Domain", but resist the urge to use it! This option is for adding an existing domain to AWeber.
Instead, look to the bottom of the menu to find the section that reads "Don't have a  domain? Get one now from Google Domains."
Click the hyperlink in that sentence.
Step 3
In the search bar, type in your desired custom domain name.
AWeber will offer some insights into your choice, helping you to refine the wording of your domain. For instance, it will tell you if the words are spelled correctly and if the domain as a whole is memorable and easy to type.
Once you're happy with your domain, click the blue "Buy" link to the right, follow the purchase process, and voilà; job done! You'll then be redirected to your AWeber dashboard with a pre-linked custom domain.
Step 4
To finish things up, you'll likely want to link your custom domain to your landing page, so head on over to the landing page you want to connect it to.
Load the "Settings" menu for this landing page then select "Landing Page URL.
Check the "Custom Domain" box, select your newly acquired domain from the dropdown menu, then publish the page.
How To Connect An Existing Custom Domain To AWeber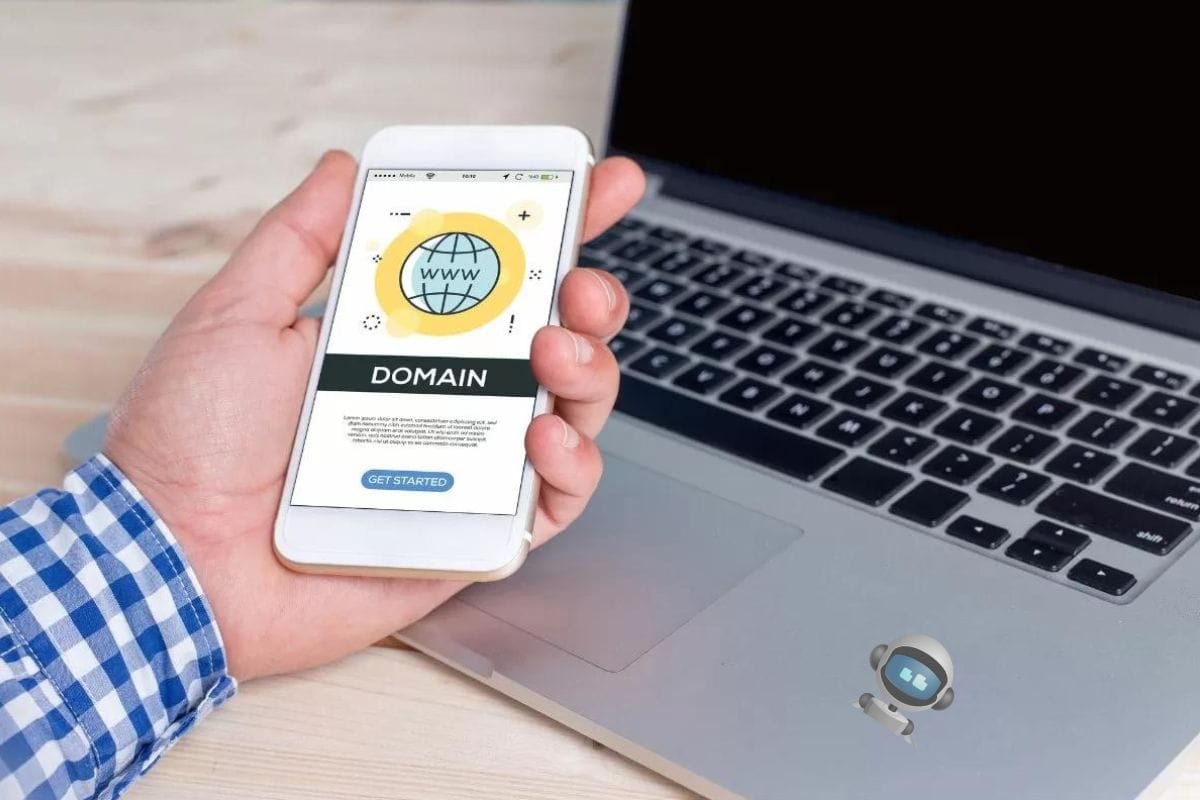 If you already own a custom domain, you can still seamlessly link it to AWeber.
Remember the "Domains and Addresses" menu from earlier?
That's all you need to connect your custom domain with AWeber and your landing pages (see also 'How Much Does A Landing Page Cost?').
Here's how, in just one step!
Step 1
To refresh your memory, you'll find the Domains and Addresses menu by logging into your account, clicking on your name on the left, clicking "My Account", then selecting the "Domains and Addresses" tab.
Last time I urged you to avoid the big blue tile that reads "Add Domain", but this time, that's precisely what we need. Enter your custom domain into the field to the left of the tile then click "Add Domain". It's as simple as that!
Why Should You Buy A Custom Domain?
Your first thought when you heard you have to pay monthly fees to secure a custom domain was likely… Ew, no thanks!
And I totally get it, but there are a number of reasons why you may just want to bite the bullet and pay up — for the sake of your branding.
Professionalism & Trust
A custom domain name looks professional, which will strengthen the bond of trust between your business and landing page visitors.
Memorable
Custom domain names are like little marketing jingles. They can get into peoples' heads, increasing the likelihood of word-of-mouth referrals and return visits.
Strengthen Your Brand
A custom domain is similar to having your name on a  business card. It's a chance to make the perfect first impression. It gives the visitor a clue as to what you're all about and how you might be able to help them.
Where Can I Purchase Custom Domains?
There are a few big names in the domain registration industry at the moment. You'll no doubt have heard of them a million times without realizing it. They are:
Google Domains
As discussed earlier, AWeber is affiliated with Google Domains, which is why you can purchase one through your AWeber account.
Their pricing is competitive, your site is hosted on super reliable Google-powered DNS servers, and their security/privacy protocols are second to none.
IONOS
This domain registrar hosts over 12 million domains. People love it for its fantastic pricing and unlimited storage, but it doesn't compare to Google Domains in terms of user-friendliness.
Namecheap
Considered by many to be the premier domain registrar and is our personal choice.
Namecheap intuitive user interface makes ordering and managing your domains a dream. And their pricing is hard to beat. We love the fact that domain privacy is free,
How Much Do Custom Domains Cost?
Thankfully, custom domain names are relatively affordable… most of the time. You'll likely be looking at something to the tune of $5–$50 per year.
The exact figure is determined by a number of variables, including the domain extension you choose (e.g: ".com"), and the registrar you choose.
For instance, a registrar might charge higher fees but offer much better support and services, which you may consider worth the investment.
There are also pre-registered custom domains that are bought and sold every day for impressive sums of money — We're talking thousands to millions of dollars!
The reason a premium domain can fetch so much at auction is that they have existed for a while and have developed a high authority, meaning the domain is recognized by many people and linked to by other websites, and this will drive tons of traffic without the owner having to do much at all.
Final Thoughts
We're not all techy people, and the idea of connecting a custom domain to an automated marketing tool seems daunting, but the folks over at AWeber have done a respectable job of making it as easy and pain-free as possible.
If you want to establish yourself as one to watch in your chosen industry, a custom domain is an absolute essential, and by using AWeber's simple linking process, you can strengthen your brand and pave the way for intensive business growth in the near future.