AWeber is a reliable, powerful email marketing service, with a long established pedigree and great email deliverability.
So if you are thinking of cancelling, then this guide will help you:
Cancel AWeber in a couple of clicks
When and how to get a refund
Decide if cancelling your AWeber account is actually the right move
Let's start by showing you how to cancel AWeber accounts.
The Cancellation Process Step By Step
The account cancellation process is very simple, but since AWeber added their Free plan, the cancel option isn't immediately obvious.
Here's a step by step guide…
Use the AWeber Login screen to access your account
Click on your account name in the bottom left corner
Select My Account from the popup menu
Finally, on your My Account page, select the Billing page
Here's a direct link to the Billing area.
Complete the Cancellation Wizard
Below your invoice information, click on the Change My Plan button.
This will cause a pop-up window to appear, which looks like so: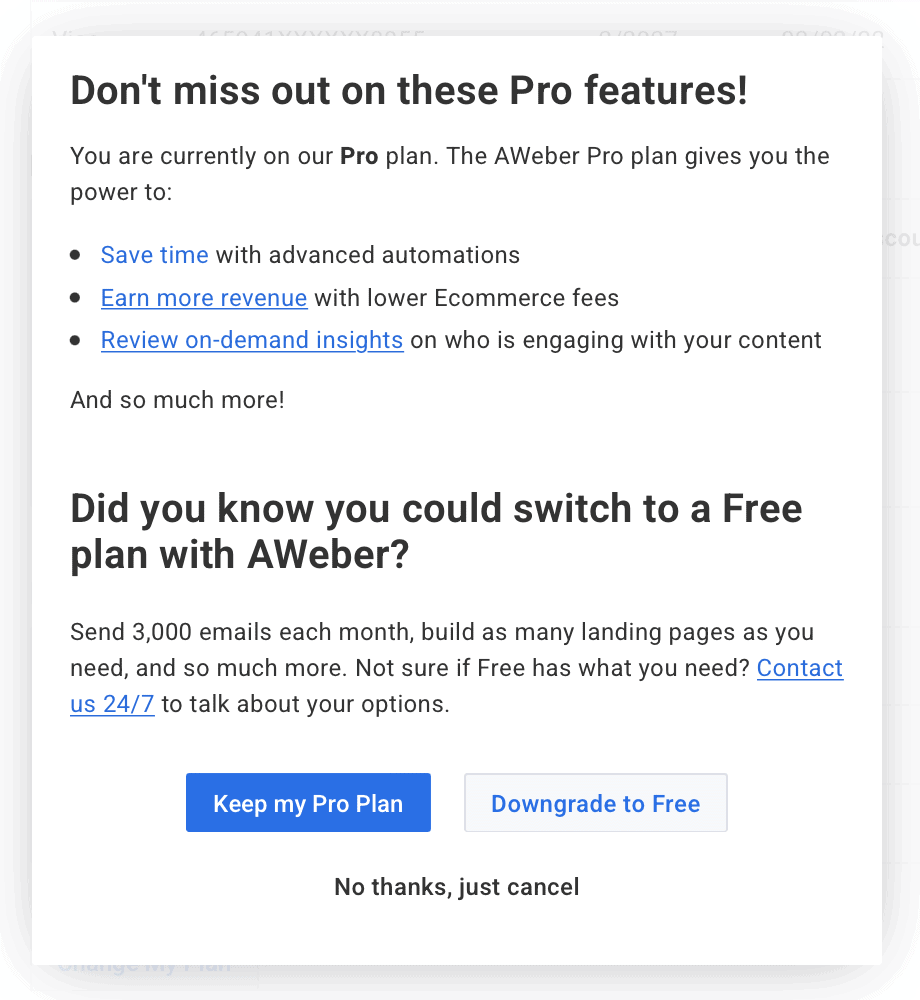 If you are on AWeber's Pro plan, your options are either to:
keep your current plan
downgrade to the AWeber Free plan
or cancel your account completely
Assuming you're set on cancelling, you just click on the No thanks, just cancel link and follow the prompts to complete cancellation.
And that's it! Your AWeber account will now be cancelled.
What To Expect After Cancelling Your Account With AWeber
Once you've confirmed cancellation of your AWeber account, a number of things will happen.
1. Subscription Billing Stops
When you cancel your AWeber account, you are actually cancelling the automatic renewal of your subscription, not terminating your account.
Your account will remain active and all your data will be accessible until the end of your paid up subscription period.
During this time, you can change your mind at any time and activate a new subscription.
2. AWeber Will Send You A Backup
To make things easier, AWeber will make a backup of all your subscribers and messages, and send you an email with a download link.
The backup download link is valid for 2 weeks, so there's no risk of losing all your data.
3. You May Be Eligible For An AWeber Refund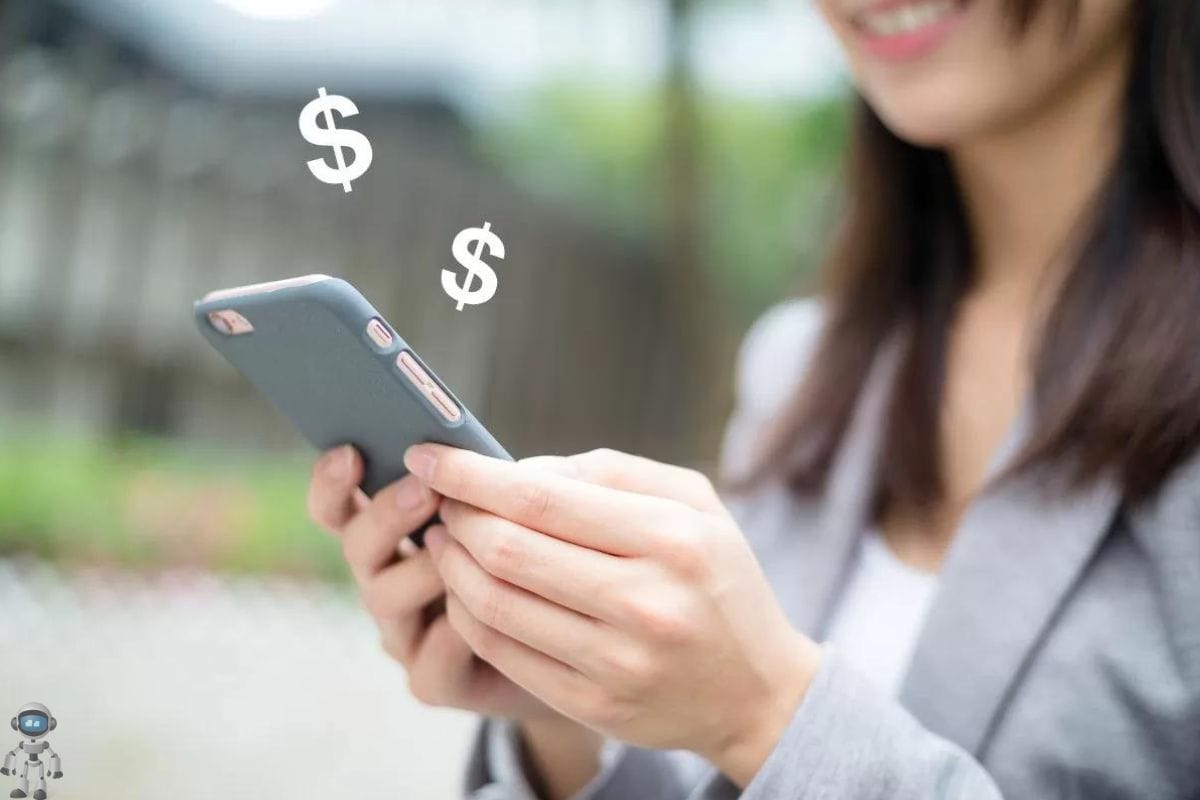 AWeber doesn't mention refunds in its terms of service, but they do have a reputation for acting fairly towards their customers, and they may consider a polite refund request.
You're more likely to be considered for a full or partial refund if you
Signed up for AWeber Pro less than 30 days ago, or
Have an annual subscription that is substantially unused
And your account has not been sending out spam
AWeber considers refund requests on a case-by-case basis, so if you are a new or annual subscriber, it's worth getting in touch with AWeber customer service to see if they can do anything about your unused account credit.
AWeber support works 24/7, and you can contact them by email, live chat, or phone via their support page.
Note that if you get a refund from AWeber, your account will be terminated immediately. So make sure you have downloaded your backup before making a refund request.
Alternatives to Cancelling Your AWeber Account
As we mentioned above, cancelling your AWeber subscription is not your only option.
Here are some alternatives.
1. Downgrade To The AWeber Free Plan
If you have fewer than 500 subscribers and just one list, you can downgrade from AWeber Pro to AWeber Free.
AWeber Free lets you send up to 3,000 email messages per month, and although you lose some of the more advanced features (like A/B tests), it's a great option if you meet the downgrade criteria.
If you have more than 500 subscribers, or more than one list, you will have to do some pruning to get you within the limits for Free, or…
2. Put Your Account On Hold
AWeber offer a special Hold Package which allows you to freeze your account if you are taking a temporary break.
The Hold Package is $4.99 per month.
While your account is on the AWeber Hold Package…
All account information will continue to be stored (including messages, Campaigns, subscribers, landing pages etc)
Subscribe forms will be disabled, so nobody can join your lists
The Campaigns autoresponder will be deactivated, but you can still send add-hoc broadcasts to your lists for a fee of $0.03 per subscriber receiving the message.
You can reactivate the account at any time.
3. Get More Features By Adding AWtomator
If the reason you are cancelling is because you've been wowed by the email automation features of another email marketing tool, then AWtomator is an option to consider.
AWtomator is an add-on service that enhances AWeber by bringing the power of behavioral dynamic response to your account.
AWtomator's flexible events let you create the same kinds of subscriber driven events that people pay big money for in premium systems like Infusionsoft and Ontraport.
Except that with AWtomator, you'll be paying less per year than they pay per month…
AWtomator lets you create expiring offers, segment your lists and trigger automation based on pages visited, videos watched and much more.
Adding AWtomator means you don't need to go through the pain, cost and hassle of moving all your lists to another email marketing provider.
Final Thoughts: Cancel AWeber, Or Not?
Email marketing can be a significant expense, but if you do it right, it can make you far more money than it costs.
Studies have shown that email marketing returns $36 for every $1 spent, on average.
The point is this – if you are cancelling your AWeber account because of cost, then maybe you need to rethink your email marketing strategy.
And think carefully if you are jumping ship because of bells and whistles.
Yes, some of the other tools have more features, but when it comes to support and email deliverability, AWeber is hard to beat.
That's why I chose to stick with AWeber and create AWtomator to fill in the gaps.
Hopefully this guide has been useful in helping you weigh up the options.