One of the biggest pre-sales and customer questions I get about AWtomator is "does it work with AWeber's new Campaigns feature"…
Well, I'm pleased to announce that the awesome engineers at AWeber have now given us the ability to interact with Campaigns Tags, and we've just rolled out an update to AWtomator that lets you apply and remove Campaigns tags in your events.
So you can now do cool stuff like:
It also means you no longer have to rely on tricks like the spacer email to build interactive campaigns inside a single AWeber list (though of course you can still do this if you want).
Adding / Removing Campaigns Tags
All of our Events support adding and removing of Campaigns tags, and the process is the same whichever Event you are using.
You simply type in the tags to add or remove when the Event is triggered, and then AWeber will trigger any corresponding Campaigns automatically (see also 'How Do I Activate AWeber Campaigns?').
You can also tag custom fields and/or the additional notes (misc_notes) fields and use these to segment broadcasts.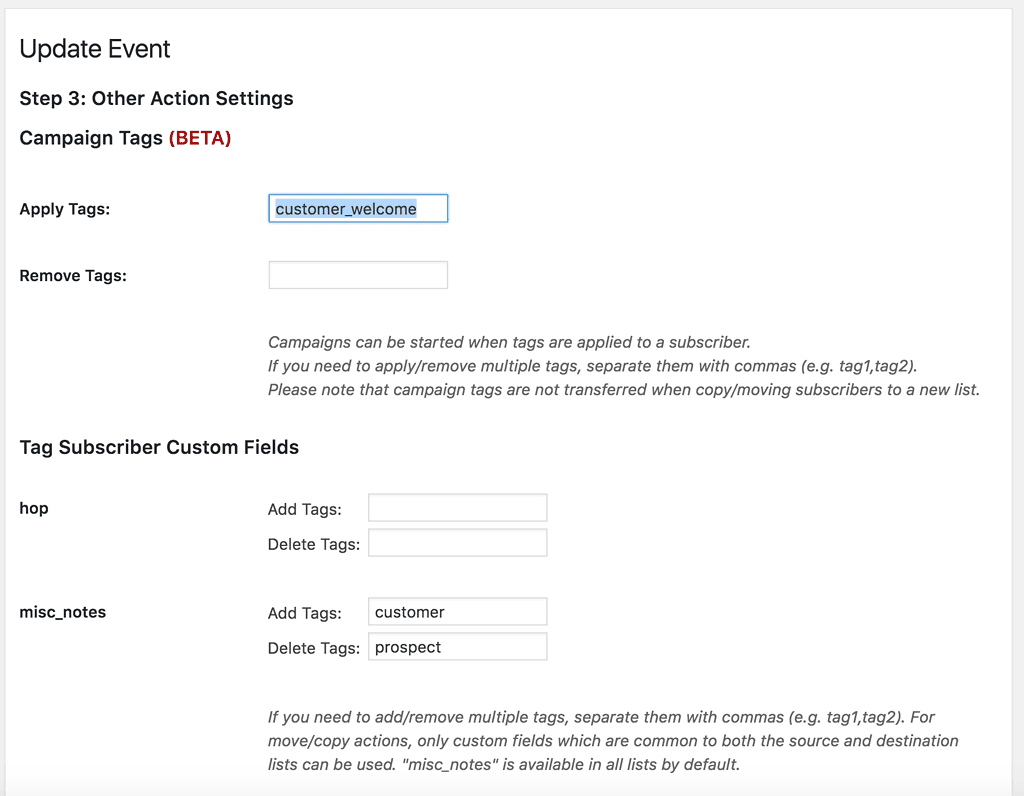 Although Campaigns Tagging is currently still in BETA (just like AWeber Campaigns), I think you're going to love how it will take your automation and segmentation to a whole new level.
Have a great weekend!
Kind regards,
Rob
Ps – I'll be posting updated tutorials to the blog over the next few weeks, showing you how to leverage AWeber Campaigns with AWtomator.