AWtomator's events give you the flexibility to do pretty much anything you could want with your subscribers, whether that's tagging them so start a sequence, moving or copying them to another list, unsubscribing them or distributing coupon codes.
But sometimes you don't want to wait for a subscriber to click a link, watch a video or visit a web page… you just want to process them right now!
That's where AWtomator's Manual Process option comes in – it lets you trigger an event for a specified list of subscribers at will, either by uploading a text/csv file, or by copy/pasting a list of email addresses.
Here's how it works: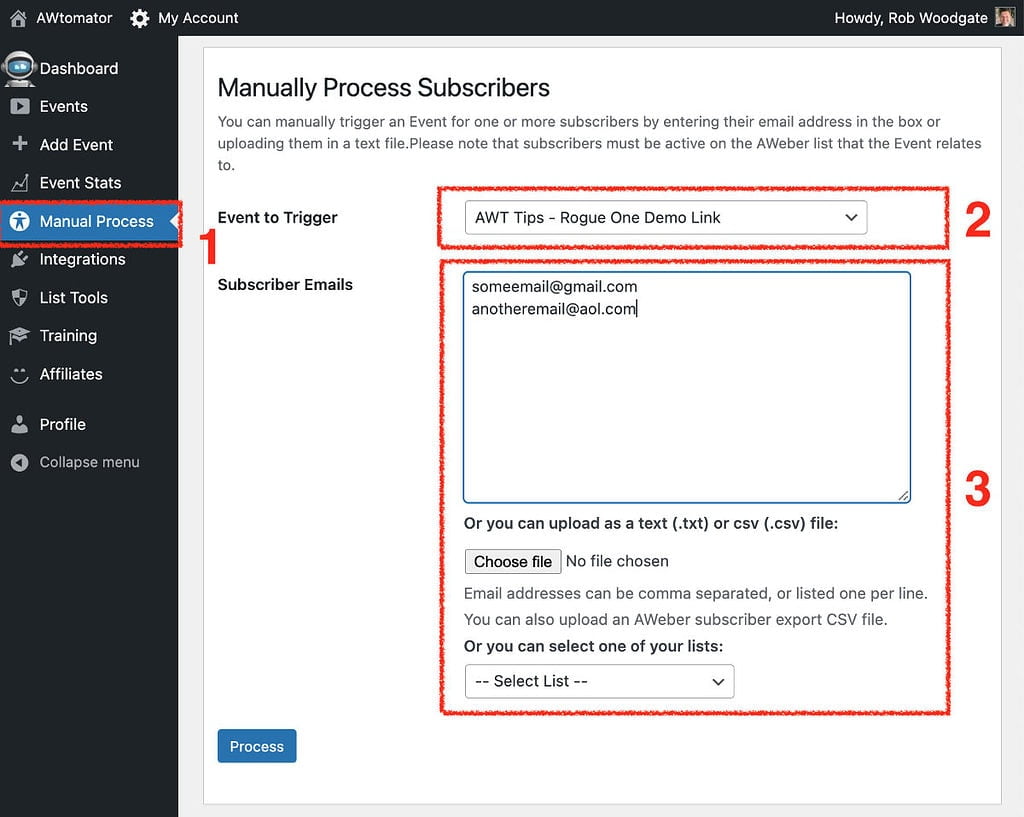 Step 1: Select the "Manual Process" option in AWtomator.
Step 2: Select the event you want to manually process from the dropdown list.
If you need to create an event specifically for manual processing, then we recommend choosing a Page Event, as these do not have any trigger settings to worry about.
You can create a new event using the Add Event option.
Step 3: Tell AWtomator who you want to process… you can either:
Copy / paste in the list of emails into the text box
Upload a CSV or TXT file
Or select one of your lists
AWtomator is pretty flexible on data formats for copy/paste and file uploads, and it will handle both comma separated and line by line lists of emails.
You can also upload both AWtomator event export files as well as AWeber subscriber export files directly, as AWtomator will just grab the email addresses and ignore the other subscriber data.
As soon as you hit the 'Process' button, AWtomator will go ahead and process the subscribers, and will give you a summary of the results.