Clickfunnels is a fully featured funnel creator that lets you create high-converting landing page sequences.
AWtomator enhances the basic integration that Clickfunnels provides for AWeber, giving you ultimate flexibility to handle subscriber actions at every stage of the customer journey.
Here's how to set it up.
Step 1: Create a Clickfunnels integration in AWtomator
We need to get Clickfunnels and AWtomator talking to each other, so the first thing we need to do is to hop over to AWtomator, select Integrations > Add New from the menu.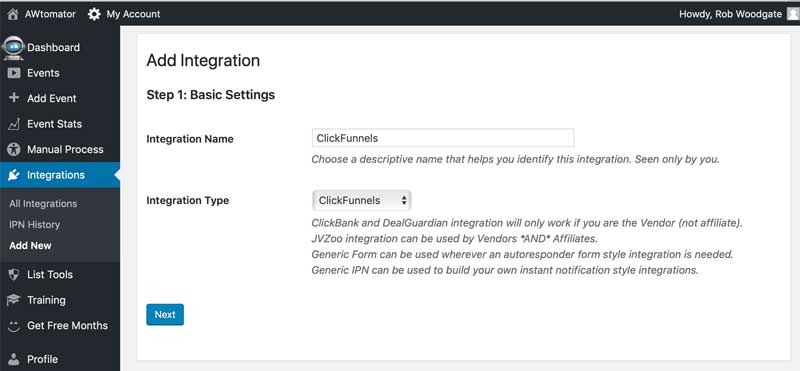 For Step 1: Basic Settings, set:
Integration Name: This is for your internal use only. If you have multiple Clickfunnels accounts, then we recommend including the account name too (e.g. "Clickfunnels – Main Account")
Integration Type: Choose "Clickfunnels"
Click next to move through the setup, until you reach the final screen.

Finally, we copy the Instant Notification URL ready for…
Step 2: Create a webhook in Clickfunnels
Next, we need to tell Clickfunnels to contact AWtomator via the Instant Notification URL whenever something interesting happens in your funnel.
To do this, login to ClickFunnels and select the specific (active) Funnel you'd like to connect:

Go to the funnel's Settings tab, and find the webhook setting:

Click the "Manage Your Funnel Webhooks" button, and create a new webhook by clicking on "New Webhook".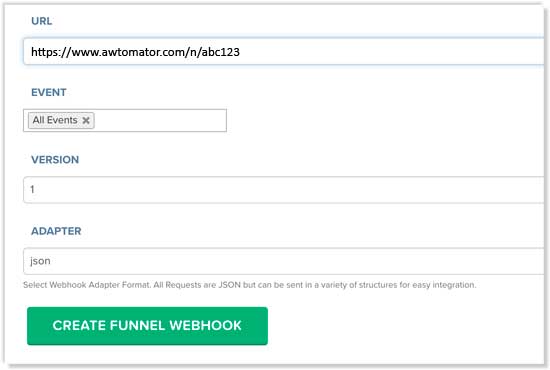 Set the following:
URL: This is the IPN URL you got from AWtomator in step 1
EVENT: Change this to use just the purchase_updated and contact_updated events.
VERSION: Leave this set to 1
ADAPTER: Leave this set to json
Click to Create Funnel Webhook, and you're done!
Step 3: Tell AWtomator what you want to do when a sale is made
With the integration side of things setup, AWtomator will now get a notification any time a purchase or contact is updated in Clickfunnels.
You'll be able to see them appear in the Integrations > IPN History log for your integration in AWtomator.

So now we need to tell AWtomator what to do when a notification comes in.
To do that, you simply set up an IPN Event in AWtomator, which is an event which is triggered by a notification.
Simply choose "Add Event" from the menu, and choose IPN Event as the event type.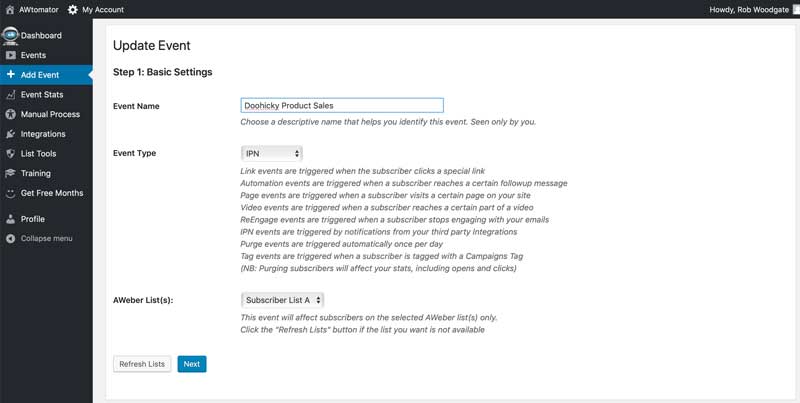 You then select your integration as the trigger and then optionally use the IPN Product IDs field to restrict when the IPN Event fires.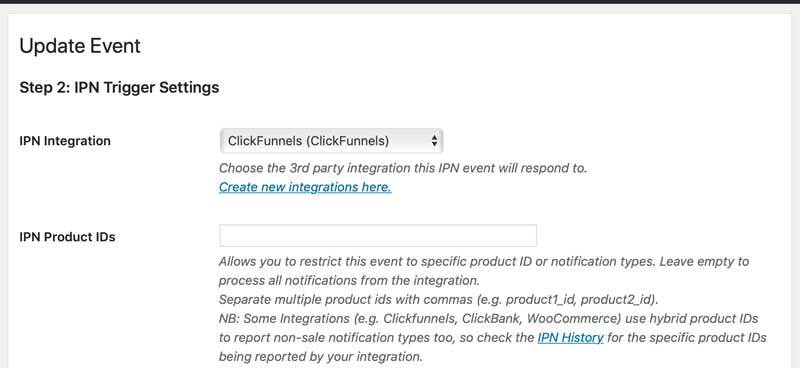 You can set up as many IPN Events as you need – all linked to your Clickfunnels integration – and fire them selectively depending on the product-status combination being reported.
Pro Tip:
Our Clickfunnels integration uses special hybrid product IDs to granularly report non-sale notification types. So you can restrict IPN Events by:
Status (e.g: paid)
Funnel id (e.g: fid_123456)
Funnel step (e.g: sid_987654)
Type of webhook (e.g. purchase_updated)
Product ID for paid orders (e.g. 45678)
Product-status for non-paid orders (e.g. 45678-refunded)
We recommend you check the AWtomator IPN History log for your integration to see the hybrid product ids your funnel is generating as this can help when planning and setting up your IPN Events.